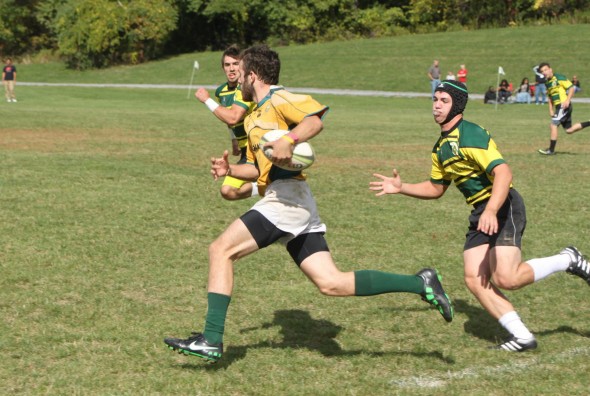 The Oswego State men's club rugby team is primed for another successful season after finishing last year just 90 minutes away from winning the state championship game.
Despite their success in 2012, the Wizards' season got off to a rocky start after losing their first two games. They came back to advance to the state championship game but could not prevail in a game that senior captain Julian Torriente described as a "nail-biter."
The Wizards are ready to improve upon their solid season last year. Senior captain John Konrad identified lapses of judgment as something the team hopes to fix this season.
"Mental mistakes," Konrad said. "We took ourselves out of the game with these mistakes."
This season, Torriente and Konrad, along with fellow senior captains Tyrell Moore and Nick Holz the goal is to take the next step and win the championship.
Oswego State lost two key seniors from last year's squad, including former team captain Rob Ruhland, but the Wizards are expecting new players to step up and add a new dimension to the team. The Wizards will have to rely on freshmen to fill out their roster. How many minutes freshmen will play has yet to be determined, but the captains are willing to give them a chance to make an impact.
"We believe everyone deserves a look," Konrad said.
The Wizards scrimmaged on Saturday to prepare for the upcoming season, which begins on Sunday against Le Moyne at the Hidden Fields.
Despite a disappointing end to last season, Konrad believes the team is ready to go the distance this year.
"We know who we are and we know what we can put on the field," Konrad said.
The Wizards are always looking for more players and will welcome new recruits with open arms. The team will open up the season with practice sessions outside of Onondaga Hall to get potential players interested in joining the team.
"Just come to practice and we will get you involved," Torriente said.
Konrad ended the interview by saying that "we believe to be better this year," and "we know who we are and we know what we can put on the field."
For those interested in joining, fliers will be posted around campus. Contact information for the team president can be found on the Oswego website for those interested in joining the team.
Clayton Votra
Contributing Writer
sports@oswegonian.com