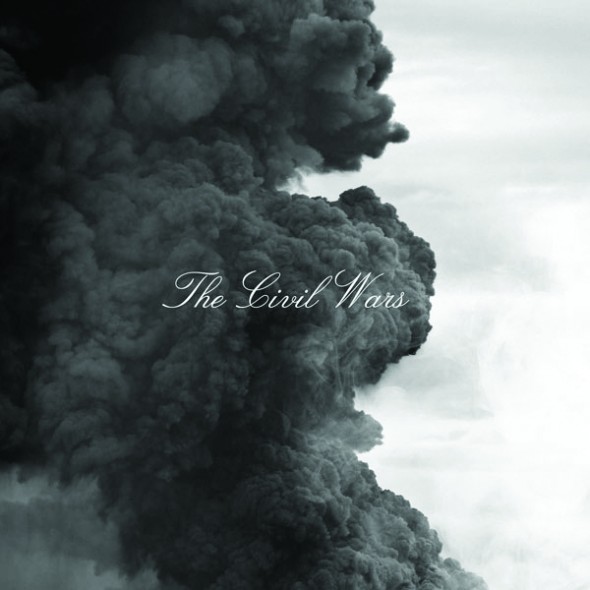 The Civil Wars: "The Civil Wars"
On The Civil Wars' new album, the self-titled "The Civil Wars," the folky duo brings the first set of new songs since their worrying hiatus last year. Fortunately for fans, the two are together again and the second album they have created has everything anyone could ask for. From epic runs to soft, guitar-picking strums, "The Civil Wars" is a musical exploration in beauty and heartache.
"The Civil Wars" begins with the lead single, "The One That Got Away." This song is a brooding storm. It is dark and intense and seems to give an insight into the feelings the band experienced during their hiatus. Other fierce tracks include, "I Had Me A Girl," "Eavesdrop," and "Devil's Backbone."
There are also some softer songs on the album, such as "Same Old Same Old," "Dust to Dust," and "Sacred Heart." "Sacred Heart," one of the album's softest songs, is sung in French and has a gentle, lullaby-like quality to it.
The second single, "From This Valley," offers a contrasting sound with its happy feel and upbeat tune. "Oh Henry" is another pleasant track that has something new to offer. It starts out slow but builds to a twangy, high-energy chorus that rivals the one on "From This Valley."
"The Civil Wars" is an album of back-and-forth sounds with a lot of variety. Any fan should find something to like on this latest installment.

Robin Thicke: "Blurred Lines"
On March 26, the lead single off of Robin Thicke's 6th album hit iTunes. Almost immediately, "Blurred Lines" became the song of the summer.  Upon release of Thicke's full R&B album, also entitled, "Blurred Lines," it became clear that, not only was the song, "Blurred Lines," the song of the summer, but the album of the summer as well. The album hit No. 1 on the Billboard 200 the week of Aug. 17 and subsequently became a commercial success.
However, what is a commercial success may not always be a critical success. And, unfortunately for Robin Thicke, the hype of the single, "Blurred Lines," seems to be the only reason the album was successful. Other songs on the album are mediocre and boring, one example of this being "Top of the World." The second single, "Give It 2 U," is an example of the songs on the album that make a mockery of music, relying on repetition to build their lyrics.
While the single "Blurred Lines" may be a fun song to listen to, no one will be mistaking it as groundbreaking and the same can be said for the album as a whole. No one will be noticing any deep meanings in this repetitive daze.

Sara Bareilles: "The Blessed Unrest"
On her newest album "The Blessed Unrest," Sara Bareilles is back on her never-ending quest to change music. "The Blessed Unrest" reminds us of the core reason Bareilles became famous: her distinguishable voice. However, it's evident from the new sounds she's experimenting with on this album that things have changed for this songstress.
The lead single "Brave" is an example of this mixture of new and old. While the voice is the same, the single uses more instruments and sound editing than most of Bareilles' previous music. This trend also exists in "Hercules." One of the best tracks on the album, "Hercules" has a sound sort of like a mash-up of Florence Welch and Fiona Apple that hasn't been heard in Bareilles' music before.
In contrast, songs like "Chasing The Sun" have an upbeat sound similar to older tracks by Bareilles such as "King Of Anything," and "Vegas." "Manhattan," and "Islands" have a familiar sound that brings up nostalgia for the best tracks of "Kaleidoscope Heart" and "Little Voice."
"The Blessed Unrest," with its perfect balance of Bareilles' old and new sounds, may outshine her stellar efforts on her two previous successful albums.

Jay Z: "Magna Carta… Holy Grail"
Jay Z's newest album "Magna Carta… Holy Grail" brings nothing new to the table, but who says anything new had to be brought? As the saying goes, "If it isn't broke, then don't fix it." This is 100 percent true of Jay Z's newest venture in the rap genre.
Reintroducing us to his original sound, Jay Z's 12th album is a well-rounded exploration of rap that other rappers should take note of. He presents us with song after song that flow masterfully together. Though Jay Z does play a little bit into the lyric repetition that is so characteristic of today's rap, he also offers up long runs and verses that speak about societal issues. Also, feature artists like Beyoncé and Justin Timberlake give the songs new life that make the album  even better.
The tracks complement each other nicely. Songs like "Holy Grail" and "Picasso Baby," explore the more fun side of rap, while songs like "Part II (On the Run)" and "Nickel And Dimes" show off rap's softer, more inspirational side. With "Magna Carta… Holy Grail," Jay Z has done it again, and that's all he needs to do to wow   his fans.

Kanye West: "Yeezus"
Kanye West's 7th album, "Yeezus," definitely made waves in the music industry this summer. After telling interviewers that he would not be aiming for radio hits, the "Heartless" rapper released his newest album in June and then let the intrigue around it build. With controversial tracks like "Black Skinhead" and "I Am God," "Yeezus" tries to dig deep into society's greatest issues.
Some tracks, like the aggressive, "I'm In It" and "Guilt Trip" are unfortunately not anything special. However, tracks such as the fiery, "Black Skinhead" and the upbeat, "Bound 2" vary enough in sound that the other similarities can be forgiven.
The album's best song is, hands down, "Blood On The Leaves." An exceptional track, "Blood On The Leaves" has emotional lyrics that connect deeply with listeners, and its use of Nina Simone's "Strange Fruit," which was interlaced with the background music to create a mysterious and intricate sound, was a phenomenal choice by West. It is unlike most songs West has produced, and that is perhaps why it is so strong.
"Yeezus" is at times tiresome, but a few standout tracks save it from becoming the snooze fest it could have been, and for that is another success by West.

Riley Ackley