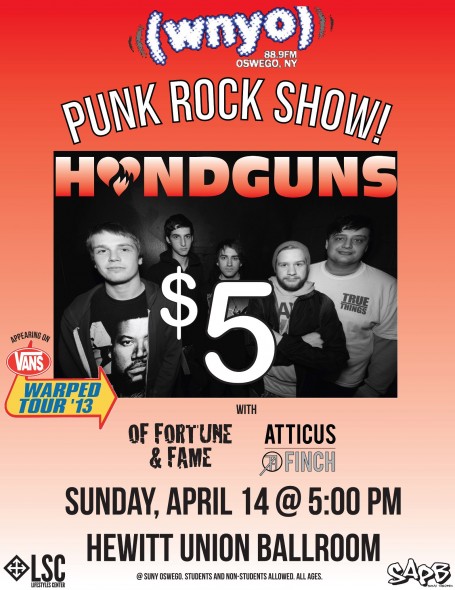 Oswego State students will not have to wait until Lupe Fiasco takes the stage later this month to experience the live concert.
This Sunday WNYO 88.9 FM will be holding "The Punk Rock Show" in the Hewitt Union Ballroom. The show is headlined by Pure Noise Records band Handguns and supported by Syracuse pop punk band Of Fortune and Fame and Oswego/Herkimer based Atticus Finch.
Handguns will be a part of the 2013 Warped Tour lineup and will play tour across the country this summer. They have toured with notable punk acts such as Hit the Lights and Senses Fail.
WNYO Loud Rock Director Steve Radford said it started as an idea to promote the Loud Rock department at the radio station, but the addition of the band Handguns on the bill brought the idea of the show to life.
"We didn't think we would have a chance of getting them due to how popular they are and the little budget we had," Radford said.
The show is being put on with the help of the Lifestyles Center and SAPB.
"We asked SAPB to help us out with extra funds, and they were happy to oblige," Radford said. "Moreover, we needed sound equipment for the show, so we asked Lifestyles if we could use theirs and they agreed to let us use it."
The layout of the ballroom will be set up to give the crowd the true punk rock show feel. Instead of using the stage, the bands will be on the floor along with the crowd. Punk rock music is known for providing closeness between the crowds and the artists. Radford said he wants to emulate that type of feel at this punk rock show.
"This will be a floor show, so it will be very intimate and close to the band," Radford said. "The crowd tends to be more exciting during shows like this because the bands and the audience are on the same level."
Punk music can sometimes come with the stereotype that the crowds can be overactive and dangerous. While Radford said the crowd will be moving, he urges that students attending the concert will have nothing to worry about.
"It's not a hardcore show where kids are hitting each other and trying to be tough," Radford said. "It's a pop punk show that's going to be positive and fun."
Radford hopes that the event will encourage students on campus to get involved more with WNYO.
"We have a small number of loud rock DJ's," Radford said. "Hopefully this show will encourage kids to get involved with the radio station in some way."
Doors for the show open at 5 p.m. and tickets are five dollars at the door and the campus box offices.