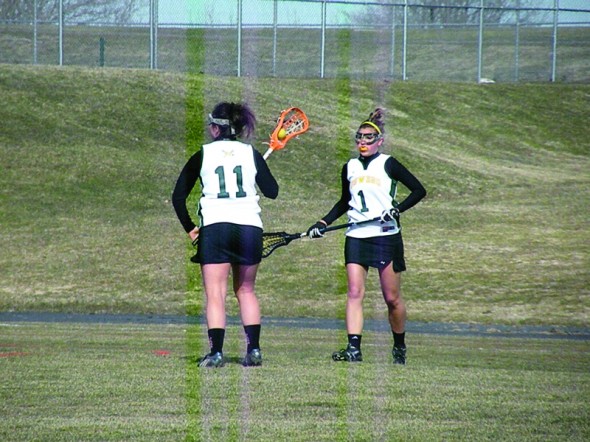 Coming off a disappointing 2012 season in which it finished with a record of 4-10 overall and 0-8 in SUNYAC play, the Oswego State women's lacrosse team is certainly looking to put last season in the rear-view mirror.
However, through their first seven games, the Lakers have the exact same record as they did at this point last season, 3-4, and dropped their first SUNYAC contest of the season. While this may sound discouraging, they are convinced that their determination and commitment is going to pay off this year.
"I think our team can be very successful based on how hard we work in practice and how well we communicate," said freshman Erannan Shattuck, the team's leader in goals and assists.
One area in which the Lakers' work has noticeably paid off is on the defensive end of the field. Oswego State leads the conference in saves per game, 10.17, and they are the only SUNYAC team to record a shutout so far this season, with a dominant 21-0 victory over Houghton College. This defensive success can be attributed to the combined play of goaltenders Nikki Greco, a junior, and senior Lauren Marois, who have split playing time in the majority of their games this season.
"They have worked very hard to keep the ball out of our goal," Shattuck said. "There are times in a game when the ball stays down on the defensive end for 20 minutes without the attack ever seeing it, and they also clear the ball very well."
As far as the offensive side of the field goes, the Lakers have heavily relied on the excellent play of their star freshman. As the only Oswego State player to rank in the top 15 in the conference in points per game, Shattuck has been able to accept her role.
"I've been practicing since August in fall ball, so our team meshed well together from the beginning," Shattuck said. "Also, I have been playing lacrosse all of my life so I adapt to new teams very easily."
Oswego State still has a lot of room for improvement in some very essential aspects to the game, however. While they are at the top of SUNYAC in ground balls per game with 25.83, they are ranked last in the conference in draw controls per game at 10.17. In addition, they are ranked last in shots per game, 25.33, and they have the second most penalties per game.
While there is room for improvement as the rest of the season plays out, the Lakers are confident that they can improve upon their weaknesses to come through with a winning record.
"Although I am satisfied with the way the team performs, I know that we can do better as a whole and as long as we work on the issues we have we will improve," Shattuck said.
Seven of Oswego State's last 10 games this season will be against SUNYAC opponents, beginning at home against SUNY Geneseo on Thursday.