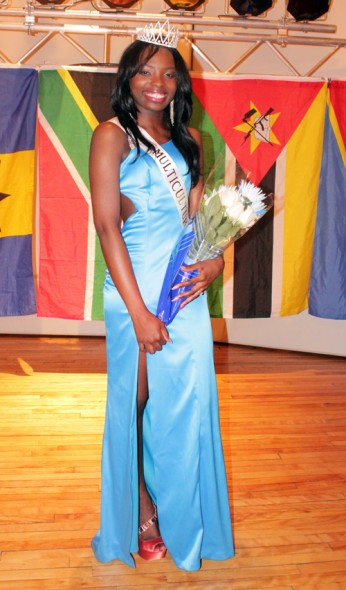 Evelyn Tarr walked slowly toward the standing microphone, deftly fixing her crown and flowers as the crowd filled with friends and supporters cheered her name.
Gazing into the crowd, with a smile wide enough to reach her eyes, the stage lights flashed directing all focus to her. The crowd simmered as she beganto speak.
Tarr, 19, was crowned Miss Multicultural for 2013 during this year's Caribbean Student Association Multicultural Pageant, Friday, March 8 in Sheldon Ballroom.
CSA transformed Sheldon, filling the stage with lights, decorative flags, music and a buffet table. Clearing the aisles, the audience was able to capture the essence of all four contestants and their different scenes.
The CSA Multicultural pageant has been around, according to the current president, Candace Pierre, since 1991. The IST-approved event judged competing girls on how well they represent the culture, display and articulation when answering questions, as well as their overall performance.
"It's a great way to show diversity amongst the campus and to showcase CSA," said Darlynda Brownlee, CSA's Public Relations. "We make it IST approved so that everybody has an opportunity to be a part.
This year's pageant consisted of four girls: Evelyn Tarr, representing Liberia; Emily Santos representing the Dominican Republic; LaChandra Day, representing the U.S. and Shanice Collins representing Guyana. The girls exhibited different talents including a swimsuit scene and answering questions prepared by the judges.
"I feel good, kind of like a celebrity!" Emily Santos, 18, said after winning second place as the Miss Multicultural Princess. "I take pride in being Dominican, I've always loved being Dominican but now I'm extra proud."
Santos and Tarr said they enjoyed every bit of the competition, and gained great friends during the process. Although preparations and practice were time consuming and stressful according to the contestants, they said it was all worth it. Both Tarr and Santos have vowed to continue beyond the pageant, with plans to continue to work with CSA as well as become more involved on campus.
"I want to be out there more, not to just stop here," Tarr said. "I want to be involved now, because I'm so laid back, but doing this brought me out of my shell.
Bianca Hill, a junior transfer from Morrisville State College said the show was well put together and empowered all cultures. Hill heard about the pageant through different friends and had never been to a CSA event prior to this one. "The Morrisville minority community differs completely from this one," Hill said, "They never did things like this, so this was really nice to see."
CSA managed to capture the attention of the entire campus, expressing diversity and providing the student body with an alternative way to spend their Friday night.
"We just want to make a difference on campus with our events," Brownlee said. "So look out for our upcoming Backyard Jam. The pageant was just the beginning."