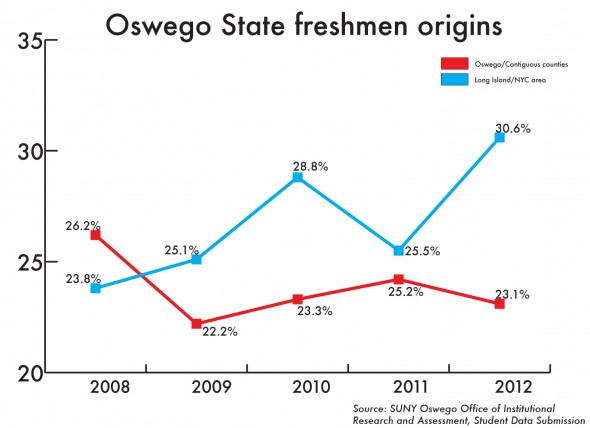 The 2012-2013 school year continues a trend showing more students who enroll at Oswego State are coming from the New York City and Long Island areas than local counties.
As of Fall 2012, students who live in the seven counties that make up New York City and Long Island account for 21 percent of the student body. The 592 undergraduate students from New York City counties represent 8.3 percent of the school student population, which is up from 7.4 percent in 2011 and far from 5.2 percent in 2008, according to the Office of Institutional Research and Assessment. Bronx County has remained the most popular New York City county for Oswego-bound students, rising a whole 1 percent since 2009.
Likewise, residents of Long Island, who make up 12.7 percent of the student body at this time, have seen a 3.7 percent increase since 2008 and a 0.7 percent increase just in the last year.
Mehran Nojan, director of Institutional Research and Assessment, gathers these statistics from student registrations on myOswego.
"We report data in response to the federal and state requirements, for the college planning purposes, for the college publication, e.g. U.S. News, and to the public," Nojan said. "The student information, including their residency status, New York or out of state, and county of residency, as well as their registration records, are processed through our information management system."
There could be many factors responsible for the change in the student demographics
"I wanted to grow as an individual and I think one of the best ways to do that is to move away from home," said sophomore Isatou Simaga, a resident of Bronx County. "And I didn't want to move too far away from home, so upstate was the best choice."
Simaga also said that she could save money by going to some schools in the city and commuting from home, but a lot of schools there are still expensive. The local schools would relatively match the price of going upstate for her, but she would still receive the extra benefit of exploring new geographic regions without traveling out-of-state.
According to the Office of Admissions, Oswego State, among other SUNY schools, has been taking relatively small steps to appeal to more downstate residents in the last few years.
"We haven't made any advertising changes," said Dan Griffin, associate director of admissions. "However, we do spend a fair amount of time recruiting in New York City, Long Island and downstate. We are also hosting receptions in these areas this spring for admitted students and planning a bus trip from New York City to Oswego of admitted students. All of this is an attempt to increase our yield from these areas."
The university-surrounding counties of Oswego, Cayuga, Jefferson, Lewis, Madison, Oneida, and Onondaga, in turn, have seen a reflective decrease in the amount of residents attending Oswego State. In 2009, this small group of counties was overcome by the 48 remaining upstate counties as the majority of where Oswego State students call home.
"College students generally seem to want to get away from home," said junior Jessica White, resident of Onondaga County. "To travel to new places and meet new people and gain that life experience, so it kind of makes sense that students are moving further away from home to go to college. It could also be the fact that Oswego doesn't offer as good of a program as another college. I know that Oswego has some pretty good majors and minors, but they don't offer everything."
While the number of students coming from the Central New York region remains fairly high at 34.1 percent, it is down from 42.9 percent from four years ago. While some of the other upstate counties have individually seen very small drops since 2008, as a group they still increased 1.7 percent in that same time. The eastern and southeastern counties of Albany, Orange and Westchester in particular have seen dramatic increases.
"The number of high school graduates in the Northeast, and specifically New York State, has been on the decline since 2008," Griffin said. "The projections from New York State Department of Education show this decline continuing through 2019. The decline of upstate graduates is more noticeable for us as we yield those students at a higher rate."
According to the SUNY 2007-2019 Projection of High School Graduates in New York State, released by the Office of Higher Education Research and Information Systems, it was stated five years ago that student demographics would change dramatically beginning in 2011. The report also said that SUNY developed a downstate strategy that included use of direct mail, email, an enhanced online presence, alumni contact, faculty telephone calls and hired two regional admission representatives specifically to cover Nassau and Suffolk counties of Long Island and Westchester, Rockland and Dutchess counties of the Hudson Valley, to recruit more students from the area.
"We are interested in diversifying our recruitment efforts, continuing our relationships close to home and in New York City, but also reaching out to contiguous states like Pennsylvania and New Jersey and working closely with the Office of International Studies to recruit international students," Griffin said. "Of course it makes for a very competitive market as every other college sees the same data, and are making their own attempts to increase their yield."
The efforts of Oswego State and the SUNY system have seen an enormous flux of downstate student numbers. From 2001 to 2010, the SUNY system saw a 95 percent increase in freshmen from Long Island; a 54 percent increase in freshmen from New York City; and a 121 percent increase in freshmen from the lower Hudson Valley.
Students still generally agree that the extreme change in atmosphere is most appealing to them.
"When people go away to college, they want to experience something different," Simaga said. "And what is different than a city? A small town."