Typically, when speaking of elections, there are multiple candidates running for one position. This is not the case for this year's Student Association elections, where both candidates are running unopposed.
The two positions open are president and vice president. Current SA Vice President, Anthony Smith, is on the presidential ticket while SA Sen. Ben June of Onondaga Hall is up for Vice President. Neither will have competition when Oswego State students vote March 11 and 12.
June said that two other students were looking to run for SA President, Christopher Collins-McNeil and Eric Flagg, but a series of technicalities are to blame for the unopposed elections.
"There were two other people looking to run for the position of SA president," June said. "Christopher was disqualified because he failed to hand in the right number of petitions, 500, before the proper deadline, and Eric was disqualified because he was not an enrolled SUNY Oswego student the semester prior to running."
June said that Flagg attended Oswego State the year prior but transferred to Northeastern University before returning this semester.
Smith currently observes and runs the senate during its weekly Tuesday meetings at 6 p.m. in the Campus Center Auditorium. Smith said he has already begun work for next year, when he will most likely be president.
"I've been working with the dean of students," Smith said. "I've developed a SUNY Oswego student survey that asks them what they want."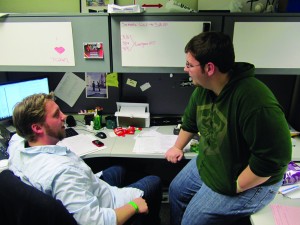 The survey asks students basic questions from what residence hall they lived in, their class year and if they know what SA is. The important question, Smith said, is what changes they would like to see on campus.
"Now, obviously we can't change the weather," Smith said.
Smith mentioned that if a student fell on a campus sidewalk because it was falling apart, they could help make changes.
This semester's SA has been difficult to follow. The organization's website has not updated their documents section of the site since last April: something Smith has been trying to work on.
"We've been trying to get the website going for almost a decade now," June said. "Anthony is working to get a dedicated webmaster."
The transparency that the student government currently lacks is something both would like to see change.
"We're not just your bank, we're your voice," June said. "We want to promote transparency on campus."
June wants to promote more grassroots style efforts from students rather than organizations coming to SA for money, which is one aspect of the student government. June would like to see more students join Senate.
"We have plenty of students," June said on potential membership. "We have over 180 student organizations…people need to know we're listening to them."
The Student Association Programming Board is one part of what SA does. They plan concerts and other fun events for students on campus. This is a well-known SA group to students because of concerts.
Smith feels that students have seen little change because executives are typically only in office for one year.
"I think that one of the problems is that leadership lasts one year, but to get anything done on campus takes two or more years," Smith said.
In a February meeting, the organization debated a resolution to fund a student organization trip. The argument lasted well over half an hour and only ended once one senator was told that the organization had already gone on the trip almost three weeks earlier.
June says that this is part of bureaucracy and politics. He also blames miscommunication.
"We need more communication between the senators and the organizations," June said.
Smith already has plans to change this.
"I want to have meetings once a month for all the student organizations, clubs and senators," Smith said.
While the meeting will not be mandatory, Smith says he will highly encourage clubs to attend. He wants those they represent to know the needs of SA and feels that by having this contact with the clubs they will be able to branch out to more students.
Eric Anderson, a sophomore business administration major, questioned what SA is and thinks that "it's discouraging" that he knew very little of the elections.
"The fact is if it's a student government, shouldn't the student government be making sure that the students are involved?" Anderson said. "I didn't even know we had a student government let alone what they do or do I even get a vote? Obviously not if they're unopposed."
James Ronca, a freshman at Oswego State also dislikes SA's unopposed elections.
"It's not the best person for the job it's just whoever's there," Ronca said. "What they have in their mind, not what we want."
Anderson criticized the student government for their lack of transparency and popularity on campus.
"Is it like high school, where student government is nothing more than a popularity contest?" Anderson said. "I'm pretty sure it's not just me, if someone's running unopposed then it's obviously not something taken very seriously on this campus."
Smith plans on working with freshmen next year to let them know who SA is and what they do.
"You have to get them while they're young and interested," Smith said.
Smith also wants students to know that as president he wants to help the students.
"I'm going to do what I do best: help the student body," Smith said.