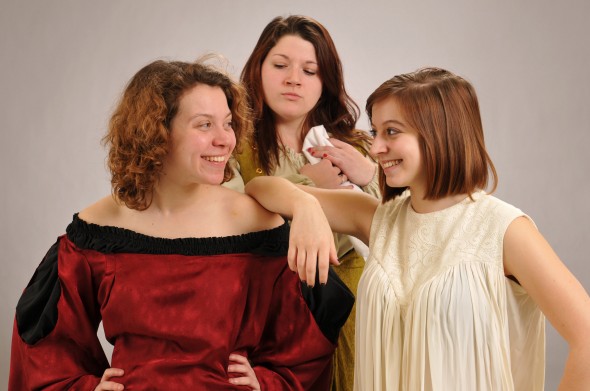 The Oswego Theater Department never fails to put on an eventful and comedic show, and "Desdemona: A Play About a Handkerchief" was no exception to this rule.
"Desdemona: A Play About a Handkerchief" was performed in the lab theater of Tyler Hall between Feb. 28 and March 3. An Oswego faculty member, Professor Joan Hart Willard, directed the show, which was written by Paula Vogel in 1979. It takes place in Cyprus in 1605 and is about the characters Desdemona, played by Dana Ernest, Emilia the chamber maid, played by Robin Rubeo, and Bianca the head of the brothel, played by Clare Bawarski. Jackie Shikora acted as the understudy of Bianca and Sierra Meisser, the understudy of Emilia. The play ran for a promising 80 minutes without intermission.
Sean Culligan was responsible for the fairly simple yet elegant set, made to look like the home of Desdemona. The audience never sees Desdemona's husband, Othello, during the show, as the play is comprised only of women. Vogel wrote the play to bring out the identities of women in Shakespeare's plays that are often underexposed.
The accents of the characters are noticeable at the play's opening. Each accent was added to give the characters definition and, more importantly, to highlight their class structure. Willard, an expert in accents, was able to make the characters more defined with the use of accent and dialect within the English language. She is a Linklater Designated Voice Teacher and is certified in the Linklater Vocal Technique
Desdemona spoke with the dialect of British-English, revealing that she is a woman of high class. Her maid spoke in an Irish accent. Rubeo did a great job of making herself a true Irish woman of the era. From the way Rubeo gestured her hands while praying with rosary beads, to speaking in a gentle whisper or angry tone, she was believable and real. Impressively, she never dropped out of character or brought out her New York accent for even a moment while on stage. Bawarski, as Bianca, had a low class accent that made her sound very uneducated.
The character of Desdemona comes across as timid and pure for only a short time before the dialogue has the audience wide-eyed at its racy content. Ernest was able to show the audience the climax of Desdemona's sexuality and curiosity, which is awakened and explored throughout the show.
The audience may at times have been challenged to either accept or reject Desdemona's claims to how she felt as a woman of her time dealing with temptations, prostitution and faithfulness. Audience members are supposed to feel charged with feminist angst at times or frustration by the repression of women's rights at other times.
Bawarski added a very different character to the mix. Her character Bianca is the lowest class of all, as she runs a brothel. It is clear by her apparel that she is a prostitute; the costume designers Darren Logane and Jordan Robinson cut her dress low and revealed her arms to bring this point home. For a woman of the time, her dress is too risqué for a common woman or even servant. She was as trashy as a woman of 1605 could afford to be. She was rough and tumble, asserting a dominance that a woman of the era might not have had had they been a respectable woman. By sucking her teeth and walking more like a man than a woman, Bawarski successfully acted as the head prostitute she needed to be. Even more impressive, Bawarski was able to belch on cue after downing an entire glass of wine.
The play ran smoothly with help from sound designers Diniece Howell, Michael Hickey and Christian Sobiech and lighting design by Jay Harr. The play's audience left the theater considering the role of women today and the role of women during the seventeenth century, but everyone had a laugh and enjoyed themselves throughout the show as well.