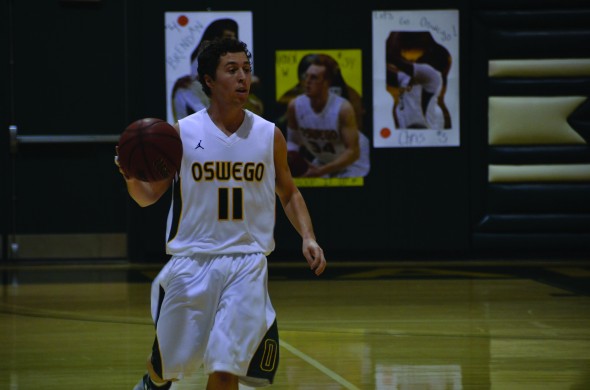 After taking down The College at Brockport in the first round of the SUNYAC men's basketball tournament, Oswego State was halted against top-seeded and eventual conference champions, SUNY Cortland.
The Red Dragons (23-4, 15-3), who hosted the tournament, used a tremendous three-point shooting outburst to take down the Lakers (19-8, 11-7), 65-54, on their way to their first SUNYAC title in 13 years.
First Team All-SUNYAC selection Jesse Winter paced Cortland with 18 points, four assists and four rebounds, and Jeremy Smith scored 17 points, shooting 4-6 from behind the arc. The Red Dragons shot a lights-out 48 percent (12-25) from three-point range, pulling away from the Lakers every time that the game appeared to be tightening up.
Senior forward Hayden Ward led the way for Oswego State with 16 points and 12 boards in his final game wearing an Oswego State jersey. Senior guard Sean Michele added 10 points and three assists for the Lakers, and senior forward Chris Gilkes dropped nine points and grabbed eight rebounds in what was their final game as well.
"It was a very numb feeling to know that the season was over," Ward said. "It was a long four years."
A steal and layup at the buzzer from freshman Kyle Covley cut Cortland's lead to just one going into the locker room, but Oswego State could not take advantage as they never led in the second half, falling behind by as much as 15 points.
"We started out slow in the second half," Ward added. "They did a great job defensively. We could have made a lot more shots."
Oswego State head coach Jason Leone was quick to give Cortland their due credit.
"They made their shots, they didn't turn the ball over and they played with a lot of poise," Leone said. "They are heads and shoulders above the next best team in the conference. They have five seniors in their main rotation that have been playing together for four years; that makes them tough to beat."
The other semifinal game of the day saw No. 2 seed SUNY Plattsburgh take down No. 3 seed SUNY Geneseo in a back and forth affair. SUNY Geneseo advanced in the tournament after taking down SUNY New Paltz in the first round.
The Knights (17-10, 12-6) kept the game close throughout, tying the game at 50 on a three-pointer from Thomas Decker with 10 minutes left in the second half. The Cardinals (19-7, 14-4) were able to climb out in front, however, and held on for the win.
Kalik Parker dropped 20 points for Plattsburgh, shooting 6-8 or three. Jordan Moody added 14 points. Reggie Williams filled up the stat sheet with eight points, 10 rebounds, four blocks and two steals.
Cortland would use another outstanding three-point shooting performance to take down Plattsburgh in the finals. The Red Dragons shot 42 percent (14-33) from downtown, with Jeremy Smith and Harrison Hefele each knocking down four and Brian Manning hitting three of his own.
Smith paced Cortland in the finals with 24 points and three assists. Hefele scored 17 points and pulled down five rebounds, while Jesse Winter put up 10 points and dropped seven assists.
"It was a fitting ending to the season," said SUNY Cortland center Dan Sternkopf. "We've been working hard, it feels good that it paid off."
Cortland's Smith was named tournament MVP, and Winter and Hefele joined him on the all-tournament team. Plattsburgh's Moody and Williams, as well as Geneseo's Lyons, rounded out the all-tournament team.
For the Red Dragons, this is their first SUNYAC tournament title since 2000 and first NCAA appearance since 2006. They will take on Elms College in Cortland on Saturday in the first round of the NCAA Div. III Men's Basketball tournament.
Plattsburgh earned an at-large bid to play in the NCAA tournament and will host Husson in the first round.