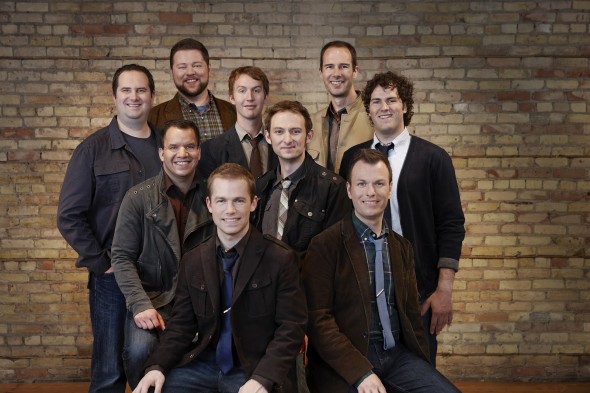 College a cappella groups have been a long-time staple of the art of a cappella music with many long-standing groups. Almost every university has an a cappella group, often including ten or more members. Many college groups have achieved national acclaim. Three such groups, Yale's The Whiffenpoofs, University of Rochester's Yellowjackets and the Dartmouth Aires, competed in NBC's "The Sing-Off," a competition show for a cappella groups. The former competed in the second season and the latter two competed in the third.
There are many a cappella groups outside of universities that attain critical acclaim, but never reach the national spotlight. Oswego was lucky to have one of those groups on campus on Feb. 1.
The Cantus Vocal Ensemble, based in Minneapolis, is an all-male ensemble and is one of the most active a cappella groups in the United States and is one of the few a cappella groups that are not run by a director. The nine-man group has two basses (the lowest part for men), two baritone (the second lowest part for men) and five tenors (the highest part for men), split into first and second tenors.
Recently, Oswego State has been no stranger to visits from famous and gifted artists, especially jazz artists. Since the fall semester of 2012, jazz legends tenor saxophonist Javon Jackson, bassist Rufus Reid, drummer Rich Thompson and his Generations Trio have all come to our school. I have had the privilege of attending master classes with all of these gentlemen as the bass trombonist for our school's jazz ensemble. However, getting a master class with Cantus was a different experience.
It is not often that a true, professional a cappella group holds a master class for college kids and, creating an extremely gratifying experience. After Dr. Todd Graber, the head of the music department, was introduced, they tuned and began to sing a song called "The Finlandia Hymn." The performance was very impressive.
Cantus had a unique sound. With nine singers, the group presents the certain power, depth and richness that a gospel choir embodies. However, they also possessed a particular quality that made them seem like a bunch of friends singing at a street corner. Two details especially characterized their sound.
The first was how they sang vibrato. Many current pop singers use a lighter and faster vibrato, meaning the volume and pitch don't change as much and the beat speed is rapid. Adele in "Someone Like You" is a good example. Cantus however, used a different vibrato, which is heavy and slow, resulting in bigger change of volume, pitch and slow beat speed. The second was how they balanced their sound. Cantus had a very balanced blend in that all of the voices were very close in relative dynamic (how loud a section is compared to another). Throughout the performance, no section was more prominent than any other. This allowed for a true "ensemble sound" and no one section defines the sound of the group.
Although the performance was excellent, even more impressive was how they ran the class. The master class took place during a College Choir rehearsal. After they were done with their short performance, they used a large portion of the time to work with the College Choir to perfect a piece in the style of a spiritual titled "Sinnuh Man." They were respectful and down to earth, offering accessible and sound advice. They did not try to change the group and did not question individual or sectional talent.
When the time for questions came, they were asked how they were able to satisfy the musical wants and needs of every member. The group was able to gain some great ideas and thoughts about this from them. Thank you, Cantus, for giving us a splendid performance and two exceptional master classes for two of our choirs.