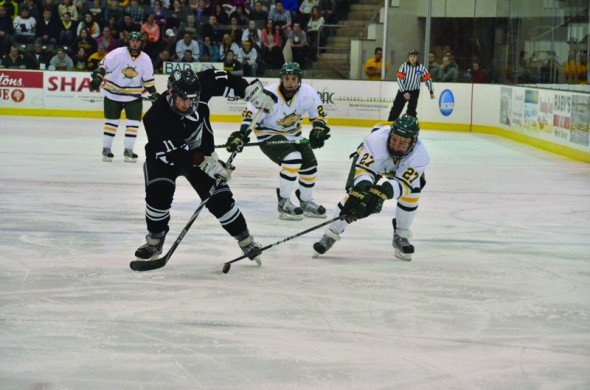 The Oswego State men's hockey team won on Friday, giving a senior class with 14 members a memorable Senior Night with a 3-2 victory over Morrisville State.
"It was one of those games where obviously our emotions were running pretty high," senior captain Jon Whitelaw said.
The Lakers got on the board early in the game when junior forward David Titanic took a slap shot that snuck over the goal line and past Morrisville goaltender Christopher Azzano.
Oswego State added its second goal on the power play after Morrisville was called for hooking. Senior forward Luke Moodie hammered the puck in off a pass from senior forward Paul Rodrigues. Whitelaw was also credited with an assist on the play.
Shortly after Oswego State's goal, and with less than two minutes left in the frame, the Mustangs cut the Lakers' lead in half.
After a mishandle of the puck by senior goaltender Andrew Hare led to a turnover, Morrisville forward Zach Baker was able to take advantage and earn the goal.
The second period began with two penalties on the Lakers, resulting in almost a minute of 5-on-3. Fortunately for Oswego State, the penalty kill was successful and Morrisville was unable to tie the game.
However, 5:12 into the second period, Morrisville scored its second goal even strength on a shot that went off the crossbar and across the goal line. Mustang defenseman James Jarvis scored the goal, with forward Mike Dolman earning an assist.
About halfway through the period, Whitelaw scored the eventual game winner for the Lakers.
Whitelaw scored off a one-time shot that beat Azzano clean, with Moodie and senior defenseman Zach Josepher earning assists.
Both goalies performed well, with Hare earning the win and registering 32 saves. Azzano recorded 33 saves for Morrisville.
Whitelaw said he was happy with the way the team played, but also acknowledged there were things to work on as the team gets closer to post-season play.
"We've got to be a little better in our defensive zone; we gave them some scoring chances and they scored some hard-working goals," Whitelaw said. "That's something we definitely want to improve on because when you play some of the better teams later on they'll make you pay for it."
The highlight of the night was the honoring of Oswego State's 14 seniors: Whitelaw, Moodie, Rodrigues, Josepher, Hare; forwards Chris Ayotte, Tyler Leimbrock Matt Singleton, Chris Muise, captain Chris Brown; defensemen Tim Carr, Taylor Farris, Jesse McConney; and goaltender Dan Jones. The class has been one of the most accomplished in Laker history.
"It was an emotional night," Whitelaw said. "We've been together for so long."
Even though Oswego State had its official send-off for the senior class, there is still plenty of hockey to be played, including the possibility of the National Championship game in March.
"I'm hoping my favorite (Oswego) memory is still to come in March," Whitelaw said.