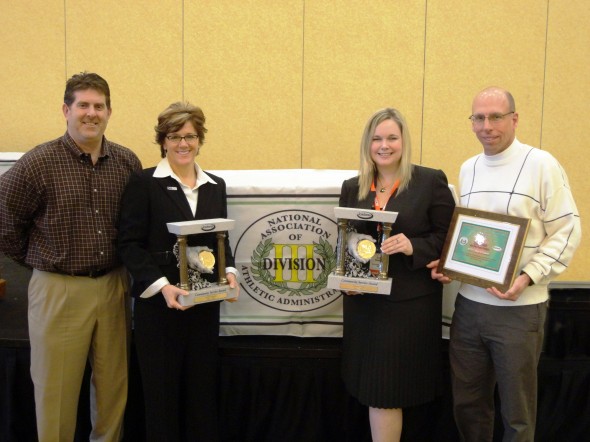 The Oswego State Athletic Department received the Jostens/National Association Division III Athletic Administrators Community Service Award for the 2011-12 school year at an annual NCAA convention in January.
The award, given out by the National Association of Divisional III Athletics Administrators, was under the category of "Array of Projects." The honor is bestowed annually to the university that the NADIIIAA considers to have held the widest and most beneficial array of community service projects.
Last year, Oswego State athletes participated in a combined 37 different projects, benefiting both national and local organizations. The efforts made by Laker athletes helped to benefit multiple organizations, such as Coaches vs. Cancer, The Susan G. Komen Fund, the Special Olympics and Move Along Inc.
The award, which was given out on Jan. 19, is not the first for Oswego State. The university was previously honored for the 2010-11 school year with an "Award of
Merit" in the same "Array of Projects" category.
This past year, Oswego State athletes raised more than $117,000 for their various beneficiaries. Oswego State Interim Athletic Director Cora Brumley said she is thrilled with the results.
"We're very proud of our athletes," Brumley said. "We won some smaller awards in the past, so this was not something completely out of the blue."
Along with the trophy itself, the award comes with a $1,000 donation from Jostens to Oswego State's general student scholarship fund.
"While it's nice to get the trophy and the recognition, the meaningful contribution is even better, since it benefits all of our students, not just athletes," Brumley said.
Community service is not only a requirement for some teams, but an integral part of Oswego State's campus culture, according to Brumley.
"It comes from a broader institutional message," Brumley said. "The administration feels it is important, and the coaches and athletes buy into the importance of that institutional culture. It's one of the things that makes our [Athletic] department distinctive."
The Athletic Department has even created a position dedicated to organizing community service events.
Dan Witmer is entering his third full year as the community service event coordinator at Oswego State. Witmer is responsible for facilitating and encouraging community service projects for all 24 athletic teams on campus.
"Before, it was hit or miss with teams and coaches … there was no coordination," Witmer said about the planning of community service before his position was created. "Now the coaches don't have to do all the work. I'm happy I can lighten the load for them, and let the coaches coach"
The Oswego State Athletic Department has received recognition from Jostens/NADIIIA three of the past four years, but 2011-12 was the first year that the university was able to bring home the trophy. This is exactly the sort of achievement that Witmer said he strives for.
"Coaches shoot for state championships, or league championships" Witmer said. "This is what I shoot for. Now that we've got the big one, I want it again next year."