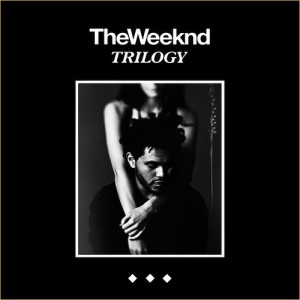 If you spent most of 2011 on a deserted island void of an Internet connection, it is possible that some of the songs on The Weeknd's new compilation album, "Trilogy," will be new. Otherwise, The Weeknd's rapid ascent from indie R&B act to mainstream star has made it highly unlikely that listeners of the three-part album, which is comprised of remastered versions of songs from the three mix-tapes released by The Weeknd over the last year and a half, will hear anything that they have not before.
This is not to say that the album is not worth a listen for those already familiar with his mix-tapes. Not only are the tracks presented with slight tweaks to their sound, such as smoother bass hits and more layered vocals, but the album itself is a physical representation of a prolific and dizzying spell of music put out over a nine-month period. The 22-year-old Abel Tesfaye, operating under the stage name The Weeknd, released three, ten-song mix tapes free to fans from March 2011 to December 2011. The Weeknd's debut mix-tape "House of Balloons," took the music world by storm that March. It was released to critical acclaim for Tesfaye's ability to create a downtrodden mood with his synth-heavy production. The mix-tape transformed The Weeknd into an Internet sensation, even landing him a co-sign from fellow Toronto native, and R&B crooner, Drake. The two mix-tapes that followed, "Thursday" and "Echoes of Silence," each were released to similar acclaim, pushing Tesfaye to the forefront of both the R&B and indie music scenes.
If R&B artist's Chris Brown and Usher's sound is considered party music, then what Tesfaye makes is after-party music; made to be played at a low volume in dark, smoke-filled rooms at 4 a.m., when alcohol and desperation lead to only the worst of decisions.
Tesfaye's lyrics often sound as if they were scribbled onto cocktail napkins twenty minutes after last-call. They focus on alcohol, drugs and sex, usually in combination and in some form as a result of one another. While these are not new concepts to R&B, or any genre for that matter, it is The Weeknd's brutal honesty and musical ability that sets him apart. Tesfaye transports listeners into an underworld of strip clubs and cocaine-addled love affairs with a gentle falsetto and sleepy beats, which disarms the menacing nature of his lyrics to create songs to appeal even to those who may find the actions reprehensible.
While similar concepts and sonic themes are explored by Frank Ocean and Miguel, they are never explored in the brooding, self-loathing manner that The Weeknd carries throughout his work. The Weeknd's exact content and lifestyle may not be relatable for most of his listeners, but the emotions of regret and pain that he conveys through his unparalleled vocal abilities turn lyrics, that can be at times alienating into sincere human ideas.
For those not yet familiar with The Weeknd's work, the best place to start would be with songs from the first mix-tape, and now disc one, "House of Balloons." Highlights on the disc include "High for This," a triumphant opener, with thumping bass and a refrain of "You wanna be high for this," that establishes the overall theme for the entirety of the album. "The Party," an uptempo jam that is accompanied with, of course, overt drug references is also a great starting point.
On disc two, or the remastered version of the mix tape "Thursday," there is the unmissable track "The Zone," featuring a verse from fellow strip-club aficionado Drake. Also of note on the tape is the song "Heaven or Las Vegas," featuring a gentle piano beat, intermittently broken by a sinister guitar solo.
The final chapter of the trilogy opens with "D.D," a cover of Michael Jackson's, "Dirty Diana," where Tesfaye's vocals bear an almost eerie resemblance to the late King of Pop's. "Montreal" features lyrics sung both in English and French set against a snappy drum beat, creating Tesfaye's most pop-friendly song to date.
The compilation also features three new songs, with one placed at the end of each disc. The strongest of the three is "Till Dawn (Here Comes the Sun)," which represents Tesfaye at his most emotionally vulnerable. The song tells the tale of an abusive love-triangle, of which Tesfaye ends up on the wrong end more often than not. Tesfaye sings "Well here comes the sun/And you're in my arms/ And my denial keeps me on the edge of the chance that you'll stay through the night." The song represents a rare turn toward emotional sincerity without the crutch of drugs, a welcome breather from the almost suffocating drug-induced gloom that permeates the rest of the album.
While there may be some understandable disappointment with the lack of new material, the fact that Tesfaye was able to put together 30 original R&B songs, each exploratory in both sound and concept, should not be overlooked. "Trilogy," which takes over three hours to listen to straight through, is a physical representation of a brilliant stretch of free music releases and a triumphant announcement that The Weeknd has arrived to change the landscape of R&B.