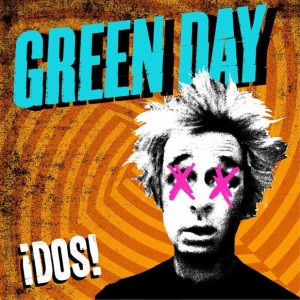 Green Day, an American punk rock band, who released their first album in 1990, has hit the studio yet again to release their tenth studio album. With a sizeable amount of Grammy's under their belt, a show on Broadway, over 65 million albums sold worldwide and a stream of hit singles, Green Day may leave listeners feeling somewhat unfulfilled after listening to their newest, "¡Dos!"
In the second of three releases in 2012, "¡Dos!" is a bit repetitive snoozer with good songs spread thinly throughout the CD. With a lack of charisma, Green Day has arguably brought their worst to date; certainly worse than that of famous albums, "American Idiot" and "21st Century Breakdown". But still, gems throughout the album make at least a few songs listenable.
In using what lead singer Billie Joe Armstrong calls "garage rock", the band seemingly attempts to hit hard for strong fans, but will leave others wondering whether the new record is an actual attempt at making a successful album or it's more of a thrown together piece of random, empty songs.
Arguably the weakest song on the album, "F*** Time" represents the album's lack of originality in a nutshell. The song is nothing special; its lyrics are nowhere near complicated, and its beat is monotonous. And, where "F*** Time" leaves off, "Stop When the Red Lights Flash," picks up the same weakness that characterized the previous track. With the repetition of lyrics like, "I'll make you surrender," the song becomes as boring as getting caught in a red light while driving. A third song that will turn away listeners is "Wild One." Like something you'd hear at the end of a middle school dance, "Wild One" is the type of song that only diehard fans will enjoy. It's slow moving; but not in a ballad way. It has little substance and the instruments don't mesh well with the song as a whole.
As stated before, there are some good songs on the album, First and foremost, "Amy," a slower song on the album, written for the late Amy Winehouse, is one of the album's best tracks. It feels like real emotion and even with its stripped down sound, the song is just as strong as some of their most rock-based attempts. Another of the album's best comes from single, "Stray Heart." "Stray Heart," is a classic Green Day song. It encompasses all of the fun and strong aspects from previous singles, but also places new flare onto this otherwise boring album. With its upbeat tune and punk attitude, this is a must-listen to for all. A third song, "Nightlife," may also interest listeners. With its darker tone, it sounds like a spy's theme. It will instantly hook fans, new and old.
Overall, "¡Dos!" is a slow moving album. With a rocky start of four or five boring tracks, "¡Dos!" may make listeners lose interest early on. However, with gems like "Amy," "Stray Heart" and "Nightlife," "¡Dos!" does have potential; just not enough to make it anything more than okay.