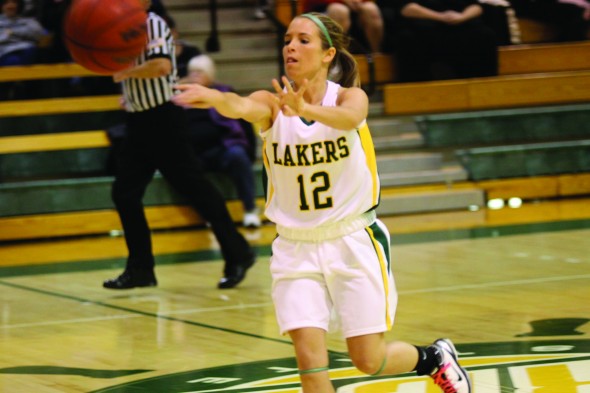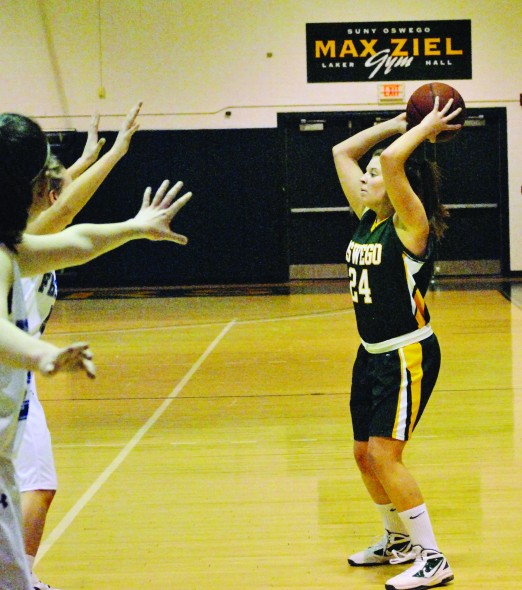 Coming off a 12-14 season last year and a loss in the SUNYAC Quarterfinals, the Oswego State women's basketball team is eyeing a return to the postseason in 2012-13.
The Lakers ended their season with a 53-40 loss to SUNY Oneonta in the first round of the SUNYAC playoffs, and this year, Oswego State is preparing to advance further than they have before.
A key to the Lakers' success this season will be its core of seniors, who are prepared to step up and lead the team after three years.
"I think that with the transition from junior to senior year, it's important for me to step up," said Kari Kipper, senior guard and team captain.
Kipper is in her first season as a team captain, alongside senior forwards Taryn Smith and Meagan Stover. Smith is in her second season of captainship, and Stover is in her first.
"[Being named team captain] means a lot to me personally," Kipper said. "The three of us are good leaders for the team, because we all have experience and a strong vocal ability to express the way we feel in a positive way."
Oswego State's returning top scorer will be Stover, who averaged 9.2 points per game. The four returning seniors have played with each other for three years now, and are ready to take the team deeper into the postseason.
"We've all actually gotten very, very close," Kipper said. "We're all very good friends on and off the court, and it helps to have that support system… We help motivate each other."
The Lakers have already begun exhibition play, falling to Queen's University (Canada) 49-29 on Friday night at Max Ziel Gymnasium. They will kick off the regular season Friday, Nov. 16, as they will host the Max Ziel Women's Basketball Tournament. Oswego State will face off against SUNYIT at 6 p.m., following the D'Youville and Cobleskill matchup at 2 p.m. The Lakers will play one of the other two teams in either the championship or consolation game the following day.
Oswego State will kick off conference play on Nov. 30, as the team will host SUNY Plattsburgh, and stay within the SUNYAC the following day with a home game against SUNY Potsdam.
The Lakers will play conference games all throughout the season from Jan. 8 on, starting with an away game against SUNY Oneonta, and finishing with another road contest at Plattsburgh to face off against the Cardinals on Feb. 16.
Senior Day falls on Feb. 12 for the Lakers this year, on which they will host Oneonta in their final home game of the season. Senior Day will also share the spotlight with Play4Kay festivities, which will raise money to assist in the fight against breast cancer.
The SUNYAC Championships, should the Lakers advance that far once again, will begin with the play-in game on Feb. 19. The semifinals will be held on Feb. 22 with the championship game on Feb. 23.
A big advantage for Oswego State will be that they return four of their top five scorers from last season. Kipper said that will help make up for the lack of size that the Lakers may have.
"An obstacle we might face potentially is our size," Kipper said. "But at the same time, we have a lot of positives that outweigh that, like our speed and our ability to rebound."
Kipper said that with the amount of potential this team has, Oswego State has a chance to be a competitive team this season.
"I think we have the potential to be one of the top teams in the SUNYAC," Kipper said. "I think people should expect to see a lot of good things from us."