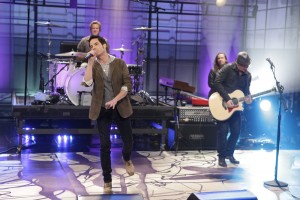 Train, better known for their smash hit "Hey Soul Sister," attempts to show they can strike gold again with their new album "California 37." Train's previous album peaked at No.8 on the charts, setting the bar extremely high. Train has hit their mark with their fourth top ten albums and their highest charting album in the United States. This is not a Grammys worthy but a true fan cannot deny this album.
The album brings the theme of nostalgia right to the front of the listeners mind with the first track entitled "This'll Be My Year." The album focuses on feelings of young love with Pat Monahan's lyrics. The album shows the side of Train that has garnered them four top ten albums. "This Will Be My Year" is followed by the lead single "Drive By," which is one of the strongest tracks on the album, along with being a radio hit worldwide. This is not the only song on the album that is fitting for the radio; such as "Bruises" and "50 Ways to Say Goodbye" if they found their way to the radio would be hits. "50 Ways to Say Goodbye" is a song that you might not expect from Train. The track features a Spanish guitar as well as horns that would be fit for a mariachi band but coupled with a strong chorus results in a surprise standout of the album.
The second half of the album does not manage to keep up the level of quality that the first half manages to produce, but there are standouts. Train slows down the album with "You Can Finally Meet My Mom" and "Sing Together," two songs that drive the heart of the album with "Sing Together" being the stronger of the two. "We Were Made For This" is a song that sounds like it has the potential to be a live favorite with a heavy guitar solo and wide array of instruments.
This is an album that any Train fan will enjoy and will definitely entertain new listeners. This is a great album for a summer collection.