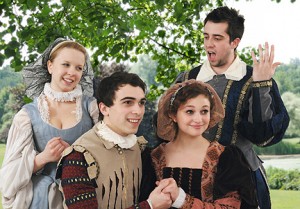 "Much Ado About Nothing" is a comedy written by William Shakespeare. It looks at two couples: one couple is head-over-heals in love, with a wedding date set. The other couple do not enjoy each other's company at all. The couple in love, Hero and Claudio, try to set up the other couple, Beatrice and Benedict, by lying and tricking them. Eventually the two admit that they do have feelings for the other. This is where everyone should live happily ever after but, of course, nothing, especially love, is ever that simple. A villain, Don John, steps into the mix to break up Hero and Claudio to upset his brother Don Paul. Hero is falsely accused of being unfaithful to her fiancé and is ousted in front of everyone who attended what they thought would be a wedding. Hero dies as a result of the accusations, succumbing to shock and heartbreak. The truth is discovered, that Hero was framed and was innocent of the accusations. Everyone feels terrible, but maybe it is not too late to make things right. In the end, love is found and unlike many of Shakespeare's plays, this one a happy ending.
The students and faculty who worked on this show did an amazing job bringing it to life. The set is gorgeous, the costumes look like they were taken right out of Shakespeare, lighting and sound were well thought out and the actors did an amazing job. Shakespeare is not easy to comprehend and the actor's performance made it easy to understand. The show was full of laughs and really enjoyable. It was easy to see that a lot of hard work and time went into the entire production. There were some crowd favorites, Dogberry and Verges. Every time they came on stage you knew a funny occurence was about to take place. Another favorite duo was Benedict and Beatrice. These two were always butting heads and never admitted how they felt about each other. They showed affection through insults.
Overall, this was a very enjoyable show. Even if you are not the biggest fan of Shakespeare, this performance is sure to entertain. Hard work and time really do pay off.