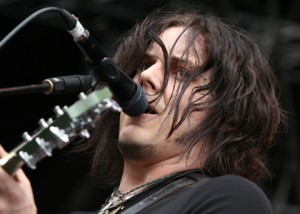 Over the last 15 years, Jack White has been rock 'n' roll's ultimate Renaissance man, a virtuosic talent who has too many ideas for one band to hold. There is the brutally simplistic garage rock of The White Stripes, the fun blasts of '70s power-pop with The Raconteurs and the murderous, Gothic blues of The Dead Weather. The fact that he constantly creates new identities and outlets for his eclectic musical talents makes White one of the most enigmatic and unpredictable figures in music.
"Blunderbuss," the first official solo album White has released, is an entirely different beast: a breakup album. This is the most emotionally direct music White has ever made, a combination of the confessional strength akin to Bob Dylan's "Blood on the Tracks" with the slow-burning R&B of the late-60's-era Rolling Stones; all filtered through his trademark blend of punk fury and bluesy classicism.
"Blunderbuss" is musically similar to his 2005 White Stripes album "Get Behind Me Satan." It's less in-your-face than some of White's other work; there is more bar-room piano on this album than scalding guitar work. But every song on "Blunderbuss" is tied to the theme of loss, frustration and loneliness. But like any break-up there is a gamut of emotions to deal with. Through the album's 13 songs, White comes off as furious, betrayed, optimistic and meditative. He has never opened himself up like this before.
The album opens with "Missing Pieces," which is built on a simple piano riff and then builds to a midtempo groove, with lyrics describing the brutal aftermath of an encounter with a woman who has done White wrong. Once White's guitar kicks in and meshes with the keyboards, the track's intensity increases.
White's trademark guitar playing style, with its bent notes and copious amounts of distortion and feedback, is not the primary musical vessel of "Blunderbuss," but when his guitar is unleashed, it is intense as ever. "Sixteen Saltines" takes the riff from The Who's "I'm Free," and beats it to a bloody pulp, as White's nasally sneer goes after a woman who cheated on him, and washes his hands of her. "Who's jealous, who's jealous, who's jealous, who's jealous of who?/If I get busy, then I couldn't care less what you do," he sings with plenty of venom. The same goes for "Freedom of 21" with its slow, bouncing riff, which builds into White mangling the six strings on his guitar.
For this album White played with a group of session musicians from Nashville and female back-up singers, providing a country influence. The laid-back country blues of "Love Interruption" could have been written for soul legend Dusty Springfield, with White crooning about the destructive nature of love. He sings the chorus: "I won't let love disrupt, corrupt or interrupt me" like a mission statement.
The most ambitious song on "Blunderbuss" is "Take Me With You When You Go," with eerie back-up vocals and dance-hall piano until the song morphs into slowed-down funk that does not sound much different than The Red Hot Chili Peppers. This song is a manifestation of the duality that has made White's career so compelling: taking the academic, structured music of the past and combining it with the electrifying sprawl of contemporary rock.
"Blunderbuss" is another unique and exciting record to add to Jack White's repertoire, with its bruised heart opening up more emotional dimensions in White's songwriting. The artists that last are the ones that can scale back their musical powers and let the words do the work in bringing some kind of truth to the forefront. "Blunderbuss" does that and then some.