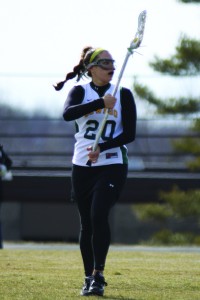 Senior attacker Rachael Raffa has been making noise since her freshman year on Oswego State's women's lacrosse team. As a freshman, she scored 42 goals and 19 assists, which was the 12th-best season-point total, the 15th best goal total and 12th best assists total in program history. She was also named Oswego State Athlete of the Week in April. Raffa has been named Athlete of the Week once every year she has been in college.
As of the 2011 season, Raffa is listed as seventh on the all-time points list at Oswego State, with 140 on 96 goals and 44 assists. Since then, she has scored 47 goals and seven assists, equaling 54 points.
When Raffa was in third grade, her mother signed her up for a youth league to play lacrosse. Some of her friends play as well. Her love for the game began then and grew as she got older.
There was never any question whether or not she was going to play in college.
"I always loved playing lacrosse," Raffa said. "It was never a debate over if I was going to play lacrosse."
She chose to go to Oswego State for the teaching program and also joined the lacrosse team.
To prepare for the lacrosse season, Raffa makes sure that she stays in shape. In the summer, she runs as well as does swimming exercises. The lacrosse team practices together every day to learn strategies and to try to improve.
"As a team we need to come together and work together in order for us to succeed, Raffa said. "It all starts with the fundamentals."
Recently, Raffa scored her 100th career goal and also tied the women's lacrosse single-game goals record with nine. At first, Raffa did not even realize it was her 100th goal. Her teammates knew before she did.
"They congratulated me and it was pretty exciting," she said.
To celebrate, the team got her flowers, a card and balloons.
"I'm happy to be done and move on to new adventures, but I'll miss the bonding experience with the other girls," Raffa said.
She has been with some of her teammates since freshman year and will miss being with them as well.
Raffa, who is a childhood education major, is not exactly sure what she would like to do after college, but she will most likely go to grad school for speech pathology. At some point in her life, she would like to coach lacrosse or soccer.
Raffa said there is only pressure when she is negatively criticized in regards to her success. Other than that, it comes naturally.
Her teammates appreciate her success as well.
"I think Rachael provides great input and knowledge of the game," said one of the captains, senior Erin Cummings. "She is an extremely smart player and knows what needs to be done in order to win games. She has a strong presence on the field and her teammates respect her effort and opinions. Her success motivates others to work hard in order to obtain the same level of success."
"Other teams will try to cover her and this puts a lot of pressure on her, but she rises above and shows the team that she will do anything she can to fight through the double teams and give a great effort," said teammate Kelly Collins. "Her success gives our team confidence, spirit, and motivation to win. Rachael is a strong lacrosse player and I am glad that she is on my team."