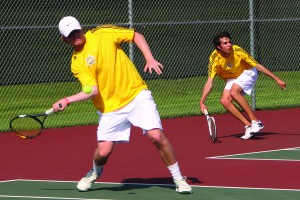 The Oswego State men's tennis team suffered a 9-0 loss Wednesday afternoon to Division II Roberts Wesleyan College.
The Lakers struggled at doubles, dropping two out of three matches, 8-0. Though the scoreboard did not reflect it, the Lakers played well, but lacked the mental edge of the game by getting down on missed opportunities and letting it affect the rest of the match.
"Tennis is just as much mental as it is physical," head coach Bob Friske said.
Friske added that playing a tougher opponent such as Roberts Wesleyan makes it an even more important part of the game, but he thought his team played hard, which made him proud of their performance.
"Top to bottom, I'm real happy with how the team played and the progress we've made from last year to this year," Friske said.
"I think we played a really good match, that's a tough team, one of the toughest were going to play and everyone stuck it out and played every point and ran for every ball, no one gave up," assistant coach Tom Loughrey said.
Taking tough loses in doubles is something junior Brian Tosti thinks his team should be cautious of in the future.
"Being up 3-0 is a big difference from being down 2-1 or 3-0 going into the singles matches; it's a completely different match after that," Tosti said.
One bright spot on the day was freshman first singles player Sam Moores. While stepping up to the plate from his usual spot at second or third singles, Moores was also battling illness going into his match. But that didn't stop him from getting on his opponent early.
"Moores came in and served huge in his first game, there were fist pumps everywhere," Loughrey said.
The final score in Moores' match against Beka Buchukuri was 6-3, 6-0 on paper, but the final score again didn't represent the closeness of the match. Moores was also happy with the performance he put in.
"I definitely played well," Moores said. "My serve felt good in the first set, kind of lost it in the second but I give it my best."
Loughrey said he thinks the Lakers will see plenty more fist pumps from Moores in the future.
Friske was pleased with how his first man looked, as well as his second singles man, Ben Weiss.
"The score doesn't reflect it, but he hit it very well today," said Friske.
If there is one thing the Lakers can take away from their match again Roberts Wesleyan, it's finishing Tosti said.
"One of the things that are in their nature is putting it away, and that's one of the things we can work on moving forward," Tosti said.
Even with things to work on, Tosti believes his team is not far off from where programs such as Roberts Wesleyan and their previous opponent St. John Fisher are.
Looking ahead to the Lakers' next match against Onondaga Community College, Friske thinks his team needs to stay focused and take each game and match at a time.
"We can't get ahead of ourselves," Friske said.
With the loss, the Lakers dropped to 2-2 on the spring season but look to bounce back Friday when they head down to Syracuse for their matchup with OCC.