The SUNY Oswego men's tennis team started the spring season hot with two early wins against Keuka College and Keystone College by the scores of 8-1 and 7-2, respectively.
Oswego State defeated Keuka College in a convincing fashion. Ben Schleider led the way for the Lakers in the No. 5 singles position, defeating Chenchao Li, 6-1, 6-0. Oswego State's first doubles tandem of Brian Tosti and Max McCune also grinded out a down-to-the-wire win against Keuka's first and second singles teams, Justin Fries and Christian Kissel, 9-8, in a tiebreaker. Tosti and McCune were down most of the match until battling back and taking the tiebreaker against Keuka's two top players.
Tosti said the win was an important one on the season.
"It wasn't an easy match by any means but we turned out a great performance up and down the lineup," Tosti said. "Coming out of doubles 3-0 rather than 2-1 was a huge difference and gave us a confidence boost going into the singles matches."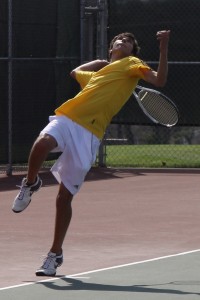 Oswego State carried that confidence into its next match with the victory against Keystone. D.J. Esposito-Kelley swept Dan Anderson of Keystone, 6-0, 6-0, at the No. 4 singles position. Sam Moores also handed in a gem for the Lakers with a, 6-0, 6-1, win over Sean Hanahue at the No. 2 singles spot. The "Ben" doubles team of Ben Weiss and Schleider also helped seal a Laker win with an 8-1 No. 3 doubles victory.
"Everyone played well, our singles and doubles were all good," Schledier said.
Tosti attributes the team's early spring success to their offseason workouts.
"We really worked hard in the off season with training and getting prepared so that we could come out firing on all cylinders when the season started and so far we have done that," Tosti said.
The Lakers have a couple tough tests coming up against St. John Fisher College and Roberts Wesleyan College, but Schleider thinks his team is ready for the challenge.
"It'll be interesting how we do against some stronger teams," said Schleider.
Both Roberts Wesleyan (NAIA) and St. John Fisher ( Empire 8 ) are strong tennis schools who compete in leagues, something which Oswego State is not a part of. Athletic Director Tim Hale said the athletic department has looked into getting tennis in a conference but so far has been unsuccessful.
Two matches have been rained out thus far for the Lakers this spring, March 31 against SUNY Oneonta and April 9 against Sage College. With recently announced renovations of the Romney Field House later this spring, the Lakers will no longer have matches rained out. Four new tennis courts will be built inside, avoiding any further home matches being postponed due to rain.