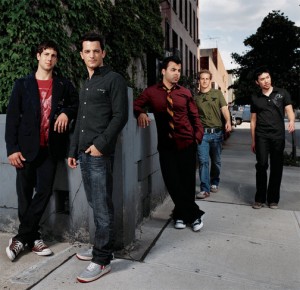 O.A.R. (Of A Revolution) will be performing the Spring Concert Series at Oswego State on April 21.
O.A.R. is an American rock band composed of Marc Roberge (vocals, guitar), Chris Culos (drums), Richard On (lead guitar), Benj Gershman (bass guitar) and Jerry DePizzo (saxophone, percussion). The band has heavy jam-band influences, mixed with a reggae and ska feel. O.A.R. has been together since 1996, after forming in Rockville, MD. Then the band spent the early part of their career at Ohio State University, but quickly left the college scene for national stardom. Many of their songs have been related to the band members' personal lives in Maryland and at Ohio State.
O.A.R. has remained a college group for most of their career. The band attended classes at Ohio State, but they toured fraternities and sororities to get their name out. Without formal marketing or advertising, of their songs like their hit "That Was a Crazy Game of Poker" spread by word of mouth. They became a hit online and attracted many college students, bringing their fame to a new level.
In 2005, O.A.R. released their first album that debuted on the Billboard 200, "Stories of a Stranger." They started to get airplay on radio with songs like "Love and Memories" and "Lay Down," bringing new fans to their music. The CD also featured more pop-inspired arrangements instead of their ska and reggae style that made them popular. O.A.R. sold out Madison Square Garden in 2006, drawing around 18,000 fans. The band attributes some their peaking success to the recording and downloading of its live performances, but O.A.R. cultivated its audience by playing nonstop concerts and by encouraging their fans to share recordings.
Most recently, O.A.R. released their new album "Kings," August 2, 2011, achieving rising success. "Kings" incorporated the band's reggae sound with pop beats, making it a mix of past and present. It debuted at No. 12 on the Billboard 200 and produced singles "Heaven" and new hit "Gotta Be Wrong Sometimes." The band went back to their roots for the CD, traveling back to the members' hometowns to record and compose the new tracks.
O.A.R. will bring a new jive to the stage, bringing a mix that will please jam-band lovers, and fans of modern pop music. They are first and foremost a college band. O.A.R.'s roots are at college campuses. Oswego will be providing the type of stage they have always known to play. It was only in 2007 when O.A.R. played last in Oswego, the year the Campus Center was inaugurated. Saturday night has the making of a show that brings students together with one unique sound. Many students including Jeff Mahoney can hardly wait.
"I've never been to an O.A.R. concert, but the funky groove they put down is something I'm excited for," Mahoney said.
SAPB is sponsoring the Spring Concert Series. Doors open at 7 p.m., and the show kicks off at 8 p.m. Tickets are $20 and are available at the Campus Center Box Office.