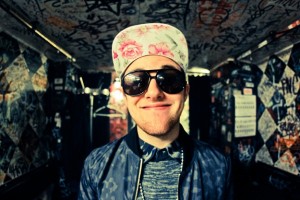 Mac Miller released his first work of the year with "Macadellic." The release has been long awaited since the success of his debut album, "Blue Slide Park." It was considered a major success by Billboard standards, reaching No. 1 and making Miller the first independent artist since 1995 to achieve this feat. Many fans were disappointed even though they supported the release and were patiently expecting this release. This mixtape shows Miller has abandoned the pop-style rap his album demonstrated and shows he is not a joke.
The mix tape begins with fast-paced tracks that display Miller's growth into serious hip-hop and his departure from high-school rap. The first song after the intro, "Desperado," immediately catches the attention of the listener as Miller uses the song to declare himself the best. The energy is maintained for another song, then the mix tape slows down. The song "Thoughts From A Balcony" shows Miller's effort to make songs with a deeper context that helps the mixtape transition from the high-energy section to the slow-paced songs that carry the mixtape forward as a serious work. It is apparent that Miller is putting an obvious effort into adding substance to his songs while still staying with his carefree style. This is seen best on what could be called the best track on the mix tape, "Fight The Feeling," which features up-and-coming Compton rapper Kendrick Lamar, who compliments Miller perfectly.
The rest of the mix tape does not stay as slow paced. Songs such as "Ignant" maintain the energy seen in the beginning while showing Miller's indulgence in the rapper bravado. This is immediately followed by the high point of the mix tape, where Miller begins to question the impact of his newly acquired public standing. This is most notable on the song "The Question," which features Lil Wayne. The mixtape ends on a high note with the song "F*** em All," which can be interpreted as Miller's words to all those who aren't with him.
One of the most notable things on this mixtape is the amount of high-profile guest appearances. Big names such as Lil Wayne and Cam'ron are real eye catchers at first glance and the material keeps the listeners attention before and after the songs featuring those artists. A lot of credit has to be given to Miller for choosing who could compliment him the best and increase the quality of this mixtape. This mixtape is arguably Miller's best work to date and it comes at the best time after a disappointing debut album.