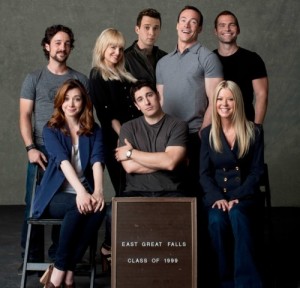 "American Reunion" was highly anticipated by fans of the series, but failed to meet expectations.
It took the stereotypical high school reunion and exaggerated it. There is the friend, Oz (Chris Klein, "Caught in the Crossfire"), who appears to be living the dream life with the model girlfriend but is not happy in his relationship. There is also Finch (Eddie Kaye Thomas, "A very Harold & Kumar 3D Christmas"), who lies about what he is doing with his life. There is Stifler (Seann William Scott, "Goon"), who is stuck in high school and just can't seem to grow up. And the married friends, Jim (Jason Biggs, "Life Happens") and Michelle (Alyson Hannigan, TV's "How I Met Your Mother"), who have a kid. Not too mention many more stereotypes.
The film picks up in the lives of Jim and Michelle. They are married and have a child but their sex life is suffering and both get pleasure from things other than each other.
It is time for a 10-year reunion, but it is a little late, so all of the original friends get back together and manage to get into just as many interesting situations as before.
Jim's dad (Eugene Levy, "Armed and Dangerous") is lonely since his wife has passed but he is not sure how to find women; he tries dating sites with no success and ultimately finds potential for love at a party. The little girl Jim use to baby-sit, Kara (Alexandra Cobrin, "Friends with Benefits") is having her 18th birthday, and makes it clear she is no longer a little girl, causing trouble for Jim.
Old feelings come up and break up relationships or threaten to have potential to break up relationships, Oz and Kevin find themselves questioning the relationships they are in and wonder what would happen if they could just have their high school sweethearts. One of them gets the girl of his dreams and the other stays in his current relationship.
Stifler is working as an intern at a company with a horrible boss and has not changed a bit. He gets a taste of his own medicine and a taste of sweet revenge.
The movie may not have been as funny as the previous one but it was a nice way to tie everything together and answer any unanswered questions. It is more of a sentimental film about the hardships and benefits of friendship and love. It is a comedic way to bringing in the new with the old, a perfect way to end the "American Pie" series. Unlike in the other movies, you see growth in the characters. They see where the others are coming from and admit that they were wrong about things they did or failed to do in the past.
Anyone who has gone to their high school reunion will appreciate this movie the most, college students will find it amusing, and high school and under will not appreciate the humor that is in this movie. I would recommend waiting for this one to come out on DVD before you decide to waste money watching it.