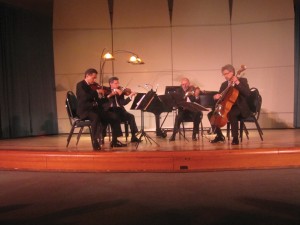 The Mexican-based Cuarteto Latinoamericano contributed a virtuosic performance to Oswego State's Sheldon Hall Ballroom Wednesday evening.
The four-piece ensemble consisted of three brothers, Alvaro (cello), Arón (violin) and Saul Bitrán (violin), along with violist Javier Montiel.
Nominated for an Grammy in 2002 as well as a Latin Grammy, the group has achieved many accolades. The various members have played with honorable acts such as the Seattle Symphony, Los Angeles Philharmonic, Símón Bolívar Orchestra of Venezuela and the Orquesta Filarmónica de la Ciudad de México.
Their musicianship expels a radiance of technicality, impressive by quartet standards. The concert brought together Latin American compositions written around the early 20th century. The pieces chosen reflect a heritage of Spanish culture and the state of the world when each composer lived.
The opening composition, "Three Pieces for Quartet," written by Francisco Mignone (Brazil, 1897-1986), extends a literal equation of three separate movements labeled as Barcarole, Minuetto and Three Spanish Songs. Mignone stands as a significant figure in Brazilian classical music. His musical influence made its mark on the world of Brazil by the age of 10. The composition layered flowing melodies that were light and airy. Romantic appeal held a strong theme.
The piece "Echú" was performed next. The texture and flightiness paired with unconventional modes gave the sound an Eastern vibe. Written by Alejandro Cardona, influence is drawn from a composer who spent many years living in Mexico and was heavily involved in Latin music.
Accompanying the quartet, guest pianist Juan Lamanna contributed to a Castellanos Yumar composition called "Divertimento for Piano and Quartet." Lamanna is part of Oswego State's music department as an associate professor and currently works as the director of College-Community Orchestra.
Before intermission the group parted ways with Lamanna and proceeded to perform "Quartet in G," written by Domingo Lobato (Mexico, b. 1920). The piece consisted of three movements titled Lento, Largo and Rudo. Musical qualities included fast runs met with smooth transitions of mellow flow.
After intermission, the Cuarteto Latinoamericano resumed with a George Gershwin piece, "Lullaby." As an American composer, this brought a contrast to the compilation. Prolonged in a single movement, melodies and phrases took on ranging dynamics and a gradually increasing tempo.
Concluding the prepared set list came the composition, "String Quartet No. 5, A. 263 'Quarteto Popular,'" written by Heitor Villa-Lobos (Brazil, 1887-1959). Yet another significant figure in Brazilian art music, Villa-Lobos was heavily influenced by Brazilian folk music, melded with European classical influence. This piece took on high register octaves from the violin section. Angular melodies helped create dissonant phrases, arousing excitement within the four separate movements.
The Cuarteto Latinamericano received a well-lit audience, causing the group to take the stage once again for an encore that they called a "tango." Electrically fast arpeggios and modal technicality expelled a climax not to be outdone.