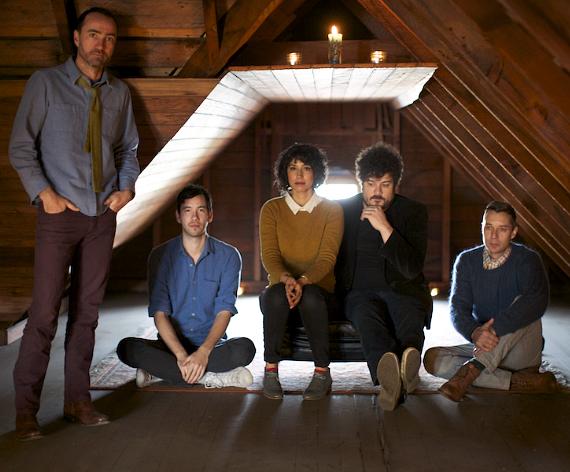 The evolution of a band can be a tricky thing. Take The Shins the group that burst onto the indie-rock scene in 2001 with the spectral navel-gazing pop of "Oh, Inverted World," which set itself apart thanks to singer James Mercer's melodic voice and ultra-literate lyrics. 2003's "Chutes Too Narrow" continued the trend, but the group's real breakthrough came with 2007's "Wincing the Night Away," where Mercer jettisoned the rest of the group's members for a group of rotating musicians, allowing him to indulge in his love for the lush pop music of the '60s.
The Shins' new album, "Port of Morrow," continues the musical trends of "Wincing," with Mercer playing a majority of the instruments himself and combining the stripped-down melancholy of his early work with the Phil Spector-inspired soundscapes of their more recent music to create a concise collection of music.
Working without regular band mates has unleashed Mercer's considerable gifts for melody and arrangements. The songs on "Port of Morrow" are no exception, with songs dealing with his trademark themes of loneliness, heartbreak and disillusionment. "You're not invisible now/You just don't exist," Mercer sings on "The Rifle's Spiral" underneath a swirl of sound effects, keyboards and guitars. "Simple Song" has a marching drum beat that would not sound out of place on a song by Yes or King Crimson, but it is supported by Mercer's soaring vocals and lyrics dealing with perseverance and dealing with the life issues. "It's Only Life" recalls "Sgt. Pepper"-era Beatles with its use of studio effects, a gorgeous melody and lyrics about reaching out to a loved one who is going through difficulties.
The album continues with the love-struck acoustic ballad "September," the energetic romp of "Bait and Switch," which is greatly aided by Mercer's incredible falsetto and an arrangement that recalls the early work of The Who. The music of The Shins is not known for having overt political themes, but the jubilant gallop of "No Way Down" is a fun exception with Mercer singing "all of our working days are done/but a tiny few are having all of the fun." It's a welcome change of pace from the group's usual musical repertoire.
One of the best things about "Port of Morrow" is how it merges the band's past and present, combining stripped-down confessionals with lush Beach Boys-style arrangements. This merging of musical objectives is best personified in the album's best song, "40 Mark Strasse," which also deals with love and perserverance through strife. The song starts off as a simple acoustic ballad but builds into a soaring chorus supported by overdubbed harmonies, strings and keyboards, demonstrating how far The Shins have come, and where Mercer and company may go in the future. The album closes with the title track, which is obviously a tribute to the music of Radiohead with elements of Elton John's "Goodbye Yellow Brick Road" thrown in for good measure, with its electronic musical accents and Mercer's eerie falsetto.
"Port of Morrow" is the most complete and satisfying Shins album to date because it is the merging of everything Mercer has tried to do musically, and as a result has created sterling pop music that deserves to be heard.