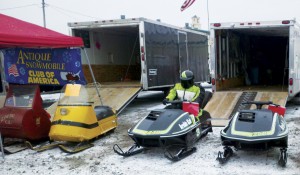 Despite frigid temperatures, fans of antique snowmobiles flocked to Fulton, N.Y., for the 12th annual Great Eastern Whiteout on Saturday.
About 4,000 people from states as far as Wisconsin filled the Fulton War Memorial for a daylong event which, weather permitting, would have featured snowmobile races along with a snowmobile show.
"The show will always go on even if there's no races," show director Jim Latino said. There were over 250 antique snowmobiles that entered the show. The categories for judging included restored and unrestored, which then featured subgroups such as antique, trail and muscle snowmobiles.
It's a family event for Lynne Fisher and her husband of Red Creek, N.Y.
"My husband fixes snowmobiles all the time, sometimes they come in a box and he'll put it together," she said. "It's also a great networking event to meet people and find parts." The Fishers have been attending shows for about six years.
"It's nice to see your work rewarded so a lot of the guys want to win their category, but it's a lot of fun for everyone in general," she said.
The show is entrant-based judging, which prevents favorites from being picked according to Great Eastern Whiteout founder Bill Monette.
"Judges had preferences before when we brought them in from companies, they would only vote for the brands they knew and preferred," he said. Some entrants travel a great distance according to Monette, who wanted a fair judging system.
The farthest Fisher remembers traveling for a show with her husband was to Boonville, N.Y.
"We love going to them, we see people we know and get to see what they work on."
"Vendors love coming here, it's a great market for everyone," Monette said. Another big attraction at the show are the vendors, which included the likes of Yamaha, Ski-Doo and SNO-SLED Entertainment.
Ernest Thurston, a freestyle rider from SNO-SLED Entertainment says he goes to roughly 15 shows a year to promote freestyle snowmobile videos. Thurston, who's grandfather owned Thurston Sports in Auburn, N.Y., has been riding all his life. The Whiteout is an event he promotes at because there's history and a wealth of knowledge in the people that attend.
"We've gone to shows all over the place, meeting people and experiencing the cities we're at is always fun, this show has a lot of history to it and it's cool to see everything," Thurston said.
"The sport keeps getting bigger and bigger," freestyle rider Brandon Anderson said, also from SNO-SLED Entertainment. "There's a lot of new stuff coming out in the sport."
Monette, who served as a consultant for the event this year, is proud of the way the show has progressed.
"We're the third largest antique snowmobile show in North America," Monette said. The largest of its kind in the East.
The Whiteout started 12 years ago when Monette and a group of eight friends returned from a snowmobile trip and met in his basement to draft the original plans.
"It's about teaching kids heritage and the history of the sport," he said. "I've seen things come through these shows that I never knew existed."
During the planning stages 12 years ago, they decided to hold the event in the winter time so there could be antique snowmobile racing as well.
"We were the first show to incorporate the racing," Monette said.
The show founders also had difficulty picking a venue for the show.
"There will never be a perfect venue with ample parking, open space, a heated facility and racing grounds," Monette said. The Whiteout first started out at the Sandy Creek Fairgrounds, then moved to Rolling Wheels in Elbridge, N.Y. and finally to Fulton three years ago.
The racing is always a big draw at the event, but the weather didn't cooperate this year.
"Riding restrictions require a minimum of 12 inches of ice to ride on the lake and we don't have that much right now," Latino said.
Despite that, Latino was still pleased with the turnout and the event overall. There's not much time to relax for Latino and his volunteers though, as they are already planning the event for 2013.
"Planning is pretty much a year round event, to get the vendors, sponsors and the word out," Latino said. The plan each year is to improve on the previous show and make a bigger and better show for the next year.