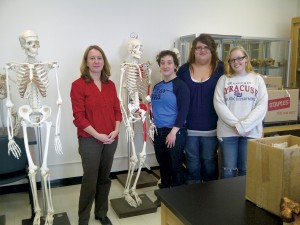 By studying striations in deer bone caused by an assortment of knives and saws, junior anthropology major Lindsey Stein hopes to conclusively determine if a specific weapon caused damages.
"I know that a lot of forensics cases right now are dealing with dismemberment," Stein said. "A lot of people are trying to inhibit identification of the body, and they think that dismembering would do that, but we have ways of telling what weapon was used."
On Monday, Stein will begin using different styles of serrated and non-serrated knives and saws to cut up deer leg bones as part of an advanced forensic anthropology course. Her goal is to look at the minute details to see if there is an imperfection in the weapon and if it will appear in the striations to identify the specific weapon used.
"I'm going to cut up the bones and analyze the marks that are left to see different methods to be used in forensics' cases. If you find just an arm, you can figure out what weapon was used to cut off the arm," Stein said. "It's gruesome, but it's useful."
Stein and four other students are able to gain forensic experience with visiting professor Kathleen Blake, who has been at Oswego State for less than a year but has been making substantial changes.
"We're trying to reestablish the forensic anthropology program," Blake said. "They've not had a forensic anthropologist in four or five years."
Blake's background is in forensic anthropology and bioarcheology, which is geared toward skeletal remains. One of her goals is to use the land by Mahar Hall, which is dedicated for anthropology use, to create burial grounds to bury animal parts in different conditions, such as in bags, with clothing and without clothing. After a year or so, the burial grounds can be dug up again.
But the first step is the projects that five students are tackling, which will be presented at Quest in April. These are the first projects that have been undertaken by students
"I'm hoping that this is a program that can grow," Blake said. "We can bring in biology students, zoology students. It's something that can cross boundaries between departments."
"She knows what she's talking about," senior anthropology student Richelle Bennet said.
Bennett is working on identifying the ancestry in skulls. There are currently four categories: Native American, Caucasian, Asian and African. Once that research is complete, Bennett hopes to determine whether or not there is major discrepancies in previous collected data and hers.
Emma Kinna, another anthropology major, is working with beetles that eat soft tissue off the bone. This method is slower and typically used for bones going into museums. Sometimes, Kinna and Blake said, the beetles are used in high-trauma situations when heat could damage evidence.
Kinna is going to compare the bone left after the beetles and have other faster methods like boiling or a chemical solution, which often discolor the skeletal remains.
"My goal is to reestablish the program," Blake said. "The first step in that is the projects these guys are doing and getting independent studies going."