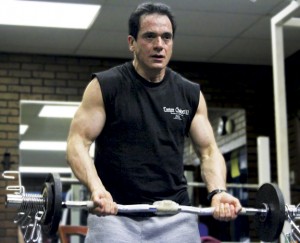 Bob Natoli kept a sense of urgency while he was breaking Guinness world fitness record for Most Weight Lifted by Barbell Upright Row in One Hour for a total of 51,640 pounds.
"You're rowing to save your life, and you refuse to die, that's the mindset you have to have." Natoli said, an Oswego State alumni and author of the book "True Vision 4 Success." "It doesn't matter what you want in life, you have to have a true vision of what you want if you want to succeed."
This most recent feat was his sixth Guinness world fitness record. He broke the record for most chin-ups in one minute (40) in 2006 and again in 2007 when he did 44 in a minute. He did this just a few hours after setting the record for most squat thrusts in one minute (56). Last year he set the records for most weight arm-curled in one hour (60,019 lbs) and most weight lifted by front dumbbell raises in one hour (39,720 lbs).
Natoli broke the most recent record on Feb. 2 he trained for a few months using strength building exercises with low reps high weight sets (as opposed to building endurance with high reps and lower weight). He would do eight reps of about 115 lbs per set, for around 25 sets a session. Natioli said that he got into weight training and healthy living during high school when he was a wrestler. He continued to weight train throughout his life, until he injured his knee running. For a while the only workouts he could do safely were chin-ups and pull-ups. In 2005 he did 20 pull-ups for a T-shirt and wondered how many he could actually do. He then began training for the world record.
Natoli doesn't just apply his "true vision for success" strategy to weight lifting; he is also a successful entrepreneur. A few years after he graduated from Oswego, Natoli started his own business, Rent-A-Vision, which would turn into the largest independently owned rental business in the country. Natoli owned Rent-A-Vision until 1999 when he got an offer to sell the company for close to $100 million. A few years later he started Timebuyer Inc., an all-in-one used car and loan center with locations all over New York.
It doesn't matter what it is in your life, Natoli believes you need to apply the same strategy he does.
"I believe that everybody has to establish a true vision for their life, and what they want to accomplish," Natoli said. "It doesn't matter what it is: a world record, a business; in order to succeed, you must first see it clearly and keep replaying in your mind how your going to achieve [your goal]."
His most recent record was dedicated in honor of the troops. Natioli personally donated $2,000 to the Syracuse VA Medical Center. He encourages everyone to donate "anything to help out the injured veterans coming back from Afghanistan and Iraq…the sacrifices they have put forth for their country is unbelievable, and no matter what your view on this war is, we need to help our soldiers out." said Natioli.
He chose the VA because he wanted to make sure that the injured veterans coming home knew that we cared.
"At a certain point we all have to pull together for those men and women, because they're doing a heck of job, so it's all about them, it's not political," Natioli said.
Natioli also donated $5,000 to the Golisano Children's Hospital after his fifth world record.
As for the future, Natioli said he is going to keep finding things that challenge him "…because you have to work for things that make you happy."