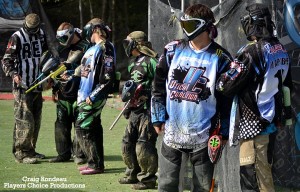 Ever since the first game of paintball was played back in 1981, the sport has witnessed a steady increase in popularity. Young people especially have taken an interest in the adrenaline rush that is competitive paintball. Oswego State is no exception to this trend. Sophomore Quentin Mariano is the captain of Oswego State's Paintball Club: SUNY Oswego Rush.
"It's a lifestyle. If you don't play, you'll never understand the dedication," Mariano said.
He expects his team to finish in the top five at this year's National College Championships.
His Rush teammate, senior Shane Fitzmaurice, has even higher expectations for the squad.
"Oh we're going all the way this year, absolutely," Fitzmaurice said.
The club is broken up into two segments: tournament and recreational. The team's top players get the honor of competing in North Eastern Intercollegiate Conference (NEIC) tournament play, where they will go head-to-head with schools such as rival Hartford and perennial powerhouse University of Buffalo.
Recreational play is open to all members. The club holds recreational paintball events about one or two times per month, and the tournament team meets for practice at least once per week. Both events are held at Action Sports Park in Syracuse.
Paintball matches are typically played with five players to a team in capture-the-flag format. The first team to score twice wins. Sophomore Kevin Saintey has been playing paintball for the past 10 years.
"It's definitely a team sport," Saintey said. "Having good camaraderie is important. Other teams look at us off the field and think wow those guys are crazy. But on the field we're all business."
Oswego State's paintball club has made it its goal to help grow the sport ever since the club's creation in 2002. As the sport continues to build at Oswego State, so does the team's success. The SUNY Oswego Rush boast two top three finishes in the last year alone, finishing first at their tournament in Massachusetts and second in the SUNY tournament, falling only to University at Buffalo in the championship round last February.
The Oswego State paintball club is always looking for new members. Those who wish to join can contact Quentin Mariano at oswegopaintball@gmail.com, like the Oswego State paintball club page on Facebook page at http://www.facebook.com/SUNYOswegoPaintballClub, or can always go through The Point. Any and all students are welcome, even those with little paintball experience.