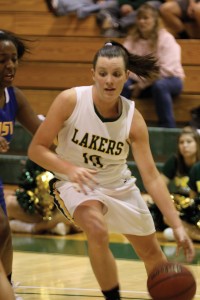 Four years ago, Oswego State women's basketball head coach Tracy Bruno, recruited a fundamentally sound athlete from Schaghitcoke, N.Y named Kayla Ryan.
"I saw Kayla playing for the first time at a fall shoot-out at RPI in Albany," Bruno said. "I was impressed right away with her work ethic and athleticism.  I reached out to her right away to initiate the recruiting process and we started to develop a relationship. We continued our conversations through the early spring and she finally committed to come to Oswego State and the rest they say is history."
Ryan has been a staple in the Lakers' lineup for four years. As a freshman, she led the team in scoring, averaging 14.0 points per game. Her early success landed her as the SUNYAC Rookie of the Year.
She did not stop there. As a sophomore, she led the team in points per game (12.5) and steals (60). As a junior, she led the team in blocks (23) and again led the team in scoring (13.4). Despite her success, she still remains modest.
"My success traces all the way back to when I first started playing basketball," Ryan said. "My dad was a great athlete in school and was the one who sparked my interest in the sport.  I have had phenomenal coaches growing up in CYO, AAU and Varsity and I give them most of the credit for my success as a college basketball player."
One of the biggest intangibles that coach Bruno has seen in Ryan is her motivation to constantly improve her game.
"She has without question improved the range of her outside shot and has become a legitimate 3-point threat," Bruno said. "The addition of that shot has made it easier for her to get to the basket."
Ryan says her biggest improvements are not necessarily the big things, but really focusing on the little aspects that improve her overall game. But the true measure of a great player is not always in the stats or the record books, but rather from other parts of the game: being a leader, being coachable or simply just being a good friend one's teammates.
"Her work ethic and her athleticism from a basketball stand point and just simply her character on a daily basis," Bruno said.
Ryan was named a captain as a junior because coach Bruno saw something in her that that makes up a true leader.
"I try to lead by example and always make sure that my teammates feel comfortable to come to me for anything," Ryan said.
The women's basketball team has a 6-7 record in the SUNYAC, which is good for sixth place.
This weekend the team will travel down to SUNY Oneonta on Friday night to take on the league-leading Red Dragons. The Lakers beat Oneonta at Laker Hall earlier this season, 55-49. In that game, Ryan went 5-for-13 from the field with 16 points.
Ryan said that the Lakers' first win was great and the Red Dragons have a good team, but she is going into this weekend with a lot of confidence.
"We beat Oneonta once when they were undefeated in the conference and there is no doubt in my mind that we can do that again," she said.
Ryan, along with her teammate Jenna Rossi, will play her last home game on Feb. 18 against SUNY Fredonia.
"The thing that I will miss the most is being a part of the team," she said. "I will miss everything that comes with being on a team, the friends, the moments on and off the court, and all the memories."
Bruno also said she is going to miss Ryan.
"Kayla being a part of the team goes beyond just offensive and defensive contributions, she said. "I can count on her every single practice and every single game to give everything that she has.  I can honestly say that there has not been one game or one practice that I walked away thinking, 'if only Kayla had given more.'"