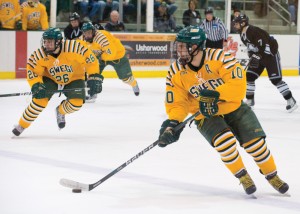 The road to the SUNYAC Championship will either go through Oswego State or SUNY Plattsburgh, as both teams clinched a first-round bye with victories over the weekend.
The Lakers currently sit atop the conference standings at 10-0-2, accumulating 22 points. Oswego State clinched the first-round bye after routing Morrisville State College, 8-1, on Saturday night at the Iceplex behind junior forward Paul Rodrigues' five goals.
The first-round bye is just one of many goals that the coaching staff sets at the beginning of the season. Other goals include clinching home ice throughout the conference playoffs and winning the SUNYAC Championship.
"We still have a ways to go, but it's nice to not have to play that game on Wednesday with a short turnaround," head coach Ed Gosek said. "It gives you a little more time to prepare and rest injuries."
Right behind the Lakers in the standings is archrival Plattsburgh, who is just one point out of first place at 10-1-1. The Cardinals also clinched a first-round bye after defeating SUNY Fredonia, 3-2, in overtime on Friday night and Buffalo State, 1-0, on Saturday night.
"The stakes are higher," Gosek said. "The importance of the games has been wretched up a couple notches. We know we have to come prepared both nights this weekend to make that game against Plattsburgh mean something."
The Lakers return home this weekend after a four-game road trip and will finish the final four games of the regular season at the Campus Center Ice Arena. Oswego State is 8-1-1 at home this season. The Lakers will faceoff against Fredonia and Buffalo State this weekend before hosting Plattsburgh and SUNY Potsdam next weekend. Oswego State has not played in front of the student section since Dec. 10 against Hobart.
"Our guys appreciate our fans," Gosek said. "They love our students. It's a fun place to play."
Plattsburgh finishes the final four games of its regular season on the road, where it has compiled a 4-1-3 record. The Cardinals travel to The College at Brockport and SUNY Geneseo this weekend before heading to Oswego State and SUNY Cortland the following weekend.
If both teams hold serve this weekend, the annual "White Out" game will more than likely decide the SUNYAC regular season champion and the team that gets home ice advantage in the playoffs. Last year, however, both teams with the first-round bye lost in the SUNYAC semifinal. The Lakers fell to Fredonia in overtime and Geneseo lost to Plattsburgh in overtime as well.