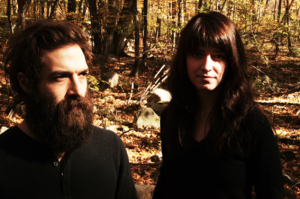 Supporting their recent studio album, "Salt For Salt," released in October 2011, the duo named Brown Bird is currently embarking on a full U.S. tour. The Rhode Island group blends musical influences such as American rock and blues with the feel of Gypsy and Eastern harmony, producing a darkened warmth, a sound all their own. From their journey on the road, band member, MorganEve Swain, discussed their album, music and travels.
Avery: Your music has a strong folk base. What are your main influences and what has inspired you to write a record such as "Salt For Salt?"
Swain: We're actually not as influenced by folk as you may think; at least not in the American sense of the word. Folk has become a genre that I find incredibly problematic, as it's come to reference, basically one type of Acoustic music, when really by the nature of the word itself, it means people's music from anywhere. I don't want Brown Bird to be mistaken for a folk band. Often the presence of acoustic instruments in bands lead people to think that the band is either folk, bluegrass or country. We are none of these.
Avery: How does this album differ from your previous release?
Swain: "Salt For Salt" is the first record we've released as a duo, aside from the EP, "The Sound of Ghosts," which we recorded and released on Supply & Demand Music, just prior to the full-length. As a duo we changed our instrumentation slightly, abandoning the accordion and dobro that were on previous releases and added in some upright bass. This, paired with the change of having only two musicians, took the music in a slightly more rock and blues-ish direction. It allowed us to play with our interest in and love for metal, Eastern European folk music and good old rock n' roll. Our previous releases were all slightly more chamber-folk-ish, and the earliest ones were very mellow. We wanted to get away from that and bring the energy of our live shows out on the recording.
Avery: Describe to your readers what you bring to the table as far as live performances go, that they may miss out on otherwise.
Swain: A comment we hear often from audience members is that we emit a lot of sound for only two people. I hope that's true. On stage we try to have fun and get people excited, and of course perform our songs the best we can. I guess it's fair to say that the one thing people sometimes get confused about is where our percussion sounds come from, and which instruments they're hearing. Dave sings and plays guitar or banjo while using his feet on pedals that hit a bass drum, a tambourine or a wood block. I, on the other hand, switch between upright bass, cello and violin.
Avery: Do you feel that the focus on playing multiple instruments is liberating or more challenging in live settings?
Swain: Probably a bit of both. Playing multiple instruments allows us to create different sounds and textures for different songs, without having to rely on another musician. Of course the obvious challenges are that we need to keep practicing multiple instruments, have a clear stage plot that sets the stage without cluttering it with wires and instruments and travel in a vehicle large enough to accommodate them all.
Avery: What is the main source or inspiration behind your lyrics?
Swain: [Dave] grew up heavily involved in a Christian church, where his father was a founding member and preacher. His early experiences with music were strongly based in the church. While in high school he began questioning the church's teachings. Those early years, with his challenges, questioning and struggle gave him a strong interest in religious theory, biblical language and the human battle between good and evil. These themes are ever present in his lyrics, even when drawing from the inspiration of everyday relationships, struggles and events.
Avery: Are there any future plans for recordings in the works or any new material surfacing?
Swain: We've been using any time at home to work on new material and we are excited to start bringing it into the live shows. There will definitely be another release, but when exactly, is currently impossible to say.
Brown Bird will be playing in Hewitt Union Lounge at 7 p.m. on Friday, Feb. 3.