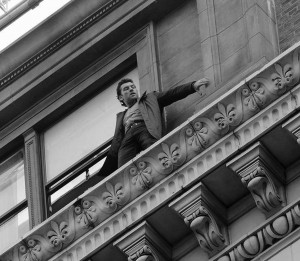 "Man on a Ledge" is brilliantly put together film, which makes it a must-see.
The setting of this movie takes place in New York City at the prestigious Roosevelt Hotel where the lead character Nick Cassidy (Sam Worthington, "The Debt"), is trying to clear his name from a crime he did not commit. Of course he cannot do this alone so this is where his brother Joey (Jamie Bell, "Tintin") and his brother's girlfriend Angie (Genesis Rodriguez, TV's "Entourage"), come in to play. They help Nick by breaking into the vault to steal back the diamond that he supposedly stole. Of course it is never that cut and dry, but the rest is for you to see.
The rest of the cast displayed a tremendous amount of talent. David Englander (Ed Harris, "National Treasure 2") is the perfect villain in this film, to be pared against Worthington. Lydia Mercer (Elizabeth Banks, "Our Idiot Brother"), is there to try to help Nick off the ledge of the hotel until she realizes that it is no ordinary suicide attempt. From then on she struggles to trust her instincts due to her past mistake and her need to help dig into the truth of Nick's case. The writer and director of this film did a great job making you relate and feel for each individual character.
There are many twists and turns in this movie but it is not very hard to follow.
The movie keeps you hooked until the end, trying to figure out who exactly is the one that double crossed Nick and made a deal with Englander that got him on the ledge in the first place. You'll wonder if Joey and Angie are going to be able to get the diamond that Nick was supposed to have stolen. These two throughout the movie provide comedic relief when you least expect, along with doing the type of missions you see in movies like "Mission Impossible." None of the stunts that they perform are too unrealistic which is perfect because the characters are just everyday people that are helping out their family, not trained CIA professionals. There is also a great amount of action and suspense in this movie so it is pretty well rounded. The action and the drama was a great combination that anyone can get in to. The cast and the storyline are beautifully put together.