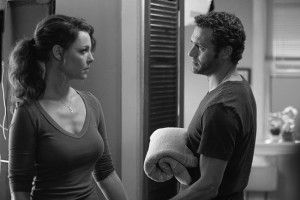 In the new action comedy, "One For The Money," Katherine Heigl ("Life As We Know It") plays the desperate, broke and out-of-work Stephanie Plum, who begins to work as a bounty hunter for her cousin's bail bond business. She immediately picks up a case personally linked to her romantic past. Joe Morelli, (Jason O'Mara, TV's "Terra Nova"), is a wanted cop charged for murder who also happens to have had a brief relationship with Plum, whom still holds a grudge from their high school days. Plum is assigned his case and begins the search that leads her into a world of lunatic wrestlers, prostitutes and heroin dealings.
Based on the best-selling book in the series by Janet Evanovich and directed by Julie Anne Robinson ("The Last Song"), "One For The Money" is at times graciously funny and clever. But most of the movie falls flat, as the main character is under developed and seemed too familiar to Heigl's past roles. Plum has absolutely no idea what she has signed up for, but at the same time determined, similar to Heigl's characters in "Life As We Know It" and "The Ugly Truth." Heigl is not a bad actress she is just currently playing roles that all fit in the same category and do not challenge her.
Heigl did not bring anything interesting to her character, but this could also be blamed on the writers. At times, jokes where painfully obvious and some of the scenes were awkward.
Plum's relationship with Morelli was where the movie succeeded the most. Heigl and O'Mara had a great amount of chemistry that made every scene in which they were together playful and memorable.
With the help of a successful bounty hunter, Ranger (Daniel Sunjata, TV's "Grey's Anatomy"), Plum's character developed from soft, department store lingerie manager, to a tough bounty hunter. Other characters that were a funny addition to the movie, were prostitutes Lula (Sherri Shepherd, TV's "The View"), Jackie (Ryan Michelle Bathe,"Leaving Barstow"), and hilarious Grandma (Debbie Reynolds, "Singing In The Rain").
"One For The Money" produces several smiles, raised eyebrows and a few chuckles here and there. It is not a significant and unforgettable comedy, as most of it dragged on and lacked luster.