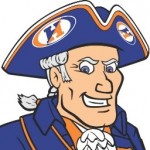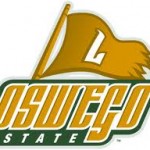 It has been nearly 11 months since the top-ranked and undefeated Oswego State men's ice hockey team traveled to Hobart College for a non-conference match up against the Statesmen. It was the second game without starting goaltender Paul Beckwith, and the Lakers struggled in a 5-2 loss. Oswego State took 10 penalties for a total of 31 penalty minutes and was outshot, 42-27.
On Saturday, the Statesmen will travel to the Campus Center Ice Arena, where the second-ranked Lakers will again be without Beckwith between the pipes. Junior goaltender Dan Jones started last season against Hobart, but this season it will likely be junior goaltender Andrew Hare that gets the start for the Lakers. Hare has appeared in 10 games this season, sporting a 7-1-2 record with a 1.95 goals against average and .926 save percentage.
The Lakers (8-1-2 overall, 6-0-2 SUNYAC) will have the advantage of being well-rested coming into the game on Saturday. Oswego State has not played since beating SUNY Potsdam, 6-4, last Saturday up in Potsdam. They do not have a game on Friday. Hobart also does not play on Friday, but played a mid-week game on Wednesday, falling at Buffalo State, 3-1. Hobart has played five opponents (Cortland, Utica, Elmira, Geneseo and Buffalo State) that Oswego State has also played against so far this season, going 1-4-0 against those teams. The Lakers have a 5-1-0 against like opponents, with two wins against Elmira.
The Statesmen (5-5-0 overall, 1-3-0 ECAC West) are led by senior forward Greg Ciciola, who has compiled four goals and six assists for 10 points this season. Junior forward Frank Salituro is second on the team in scoring with eight points on five goals and three assists.
Hobart has two junior goaltenders on the roster that have been splitting time this season. Statistically, Martin Ausserhofer has had the better season, compiling a 4-1-0 record with a 1.67 goals against average and a .928 save percentage. Ausserhofer's goals against average is fourth-best in Division III. Ausserhofer had won his first four decisions before allowing three goals in a loss to Buffalo State on Wednesday. Ausserhofer helped lead the Statesmen to the Cape Cod Tournament championship, defeating Babson and Amherst during the Thanksgiving break. Nick Broadwater started the season in net for the Statesmen, but hasn't seen action since being pulled against Babson on Nov. 26. Broadwater is 1-4-0 this season with a 3.48 goals against average and a .880 save percentage.
Oswego State is led by a pair of junior forwards. Assistant captain Jon Whitelaw and Paul Rodrigues share the team lead in scoring with 17 points. Whitelaw has registered a team-high six goals and 11 assists. Rodrigues has scored five goals and tallied a team-high 12 assists. Whitelaw and Rodrigues are tied for 13th most in Division III scoring. Senior forward and assistant captain Ian Boots is third on the team in scoring with 12 points on four goals and eight assists. The Laker offense is averaging 4.73 goals per game, sixth-most in Division III.
At the halfway point in the season, the Lakers have already received as many goals by defensemen as they did all last season. The Lakers have nine goals from defensemen so far this season, led by junior defenseman Jesse McConney, who has four goals. Junior defensemen Taylor Farris and Tim Carr each have two goals this season, while Zach Josepher has one goal. Hobart has received 12 goals from defensemen this season.
The Lakers hold the advantage in special teams and team defense. Oswego State's power play is ranked 23rd with a 22.2 percent success rate. Hobart's power play is ranked 35th with an 18 percent success rate. The Lakers penalty kill is ranked 29th, killing 83.9 percent of opponent's power plays, while the Statesmen penalty kill is ranked 34th, killing 82.1 percent of opponent's power plays. On defense, Oswego State holds the 15th-ranked defense, allowing 2.18 goals per game. Hobart's defense is ranked 23rd, allowing 2.70 goals per game.
Saturday's game will mark the final game before winter break for both teams. The Lakers will have three weeks off before returning to the Campus Center Ice Arena to host their annual Pathfinder Bank Oswego Hockey Classic over New Year's weekend. Hobart will not play again in 2011 after Saturday, as its next game is not until Friday, Jan. 6 against Curry College.
The Lakers and Statesmen meet on Saturday, Dec. 10, at 7 p.m. at the Campus Center Ice Arena for a non-conference meeting. Oswego State has controlled the all-time series between the two teams, leading 31-3-1.