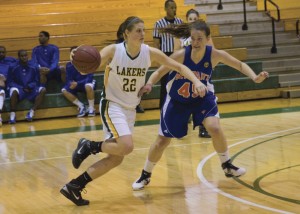 Coming off a year when the Oswego State Women's basketball team lost in the quarterfinal of the State University New York Athletic Conference (SUNYAC) tournament for the 4th consecutive year, there a lot of questions that need answers for the Lakers.
The Lakers lost four senior starters who played significant minutes last year, and head coach Tracy Bruno is going to have to be creative in filling in the blanks between returning players and incoming freshmen.
"Losing four seniors and four starters has caused a lot of role changes and extreme competition in practice," Bruno said. "Our returning players have responded in leadership positions and our new players are adjusting very quickly to the style we want to play."
Luckily, the one returning starter is the one who has the biggest impact on the team as a whole. Senior Kayla Ryan has led the team in scoring every year she has been on the team. She constantly fills up the stat sheet while also being a great leader.
"The one constant that remains for us is returning senior Kayla Ryan," Bruno said. "We will continue to look to Kayla to be a leader on our team. She is a tenacious rebounder and an obvious scoring threat."
Despite having a lot of holes to fill, Bruno is confident in her returning veterans and incoming players. She sees a lot of potential in this team despite it being a very young team compared to last year. Some of this youth and competition will transfer over into position battles, as point guard time will be shared between juniors Kassie Kleine and Alyssa Georgiade.
"It is great to have two players on the floor that can handle the ball, make good decisions and push pace," Bruno said.
Joining Ryan in the frontcourt is junior forward Meagan Stover, who really started to shine at the end of last year. Stover led the team in steals last year, while averaging 7.7 points and 3.9 rebounds per game. Bruno foresees Ryan and Stover to be the forefront of a balanced Lakers scoring attack.
Senior Jenna Rossi, Junior Kari Kipper, and Sophomore Lauren Nunziato will compete for the other starting spots, but Bruno made it clear that the lineup will always be subject to change, considering she has a lot of depth to work with.
"This year, as competition continues in practice, you may see our lineup change based on match ups, performance and the growth of our freshmen," Bruno said. "This is not meant to be threatening. It is meant to show our possible depth as our players continue to work, compete and develop."
The Lakers have many goals for this season, and at the forefront of them is to improve on their 11-15 record from last season. Additionally, the Lakers are hoping to advance to the SUNYAC tournament for the 11th straight year. Behind the leadership of Kayla Ryan and Coach Bruno, these upstart Lakers might surprise a lot of people this year.
The Lakers opened their season Tuesday on the road against the nationally ranked University of Rochester, when Oswego State lost 73-39. Oswego State looks to rebound on their home court at the Max Ziel Basketball Classic Friday and Saturday.