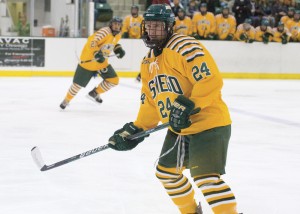 Brothers Tim and Chris Carr grew up playing hockey together. Hailing from Burlington, Ontario the brothers grew up surrounded by the sport. In the Carr family hockey is a tradition that began at the age of five for both brothers. Now both are Lakers, playing on a competitive team together for the first time.
"It's definitely different," Chris Carr said. "We've never played together before. It's fun having each other in the same room. It helps with me being a freshman having my brother here. I've enjoyed the experience for sure."
Chris Carr is a forward playing his first season with the Lakers this year. Before coming to Oswego, Chris Carr played four seasons between the Milton Icehawks and the Burlington Cougars of the Ontario Provincial Junior Hockey League (OPHJL). Over the course of his OPJHL career, Chris Carr played in 154 games, scoring 45 goals and registering 107 assists.
Tim Carr, a junior defenseman, has entered his third season with the Lakers and has started off strong. So far, the older brother has played in six of the Lakers' seven games. He has scored a goal and registered three assists for a total of four points. Tim Carr is already set to surpass his points scored from last season, where he registered one goal and five assists in 27 games.
Prior to his time at Oswego State, Tim Carr attended Division I UMass-Lowell, where he was redshirted in his only season there. He transferred to Oswego State for the second semester of the 2009-10 season and played in only one game that year. Last season Tim Carr made a place for himself in the defensive lineup, playing in all but one game.
Chris Carr has played in three games so far this season and was the first freshman on the team to see ice time. He played both games during the Lakers' opening weekend sweep of Elmira College, and most recently in last Saturday's tie against Morrisville State.
Chris Carr said his decision to come to Oswego State was definitely influenced by his older brother.
"I heard great things about this program," Chris Carr said. "It's a great program and I heard it from [Tim] and I heard it from other guys. It was definitely a factor."
Ironically, in the first game of the season at Elmira, Chris Carr played while his older brother did not. Both brothers played in the home opener against Elmira which resulted in a 6-2 win for the Lakers.
"It was nerve-wracking for sure but it was a lot of fun," Chris Carr said. "I was excited, especially during the home opener in front of all of our fans. I've never played in front of that many fans before. I'm happy coach gave me the chance."
Having an older brother on the team not only brought Chris Carr to the Lakers, but it is helping him adjust to Oswego State and collegiate hockey.
"It makes me more comfortable," Chris Carr said. "I can ask him questions and he's already been through it for two or three years. The more comfortable I am the better I'm going to play."
Not only is the younger Carr benefiting from the experience of having his brother on the team but Tim Carr said he has been enjoying it as well.
"We get to see each other every day, go to the rink and play hockey every day," Tim Carr said. "That's something we love so it's been good."
Although the brothers support each other's individual development, both are focused more than anything else on supporting the team.
"I just want us to win," Tim Carr said. "I don't really care individually how we do it. If I have to sit and watch or if I'm playing, I just want to win."
"As a freshman I just want to get into as many games as I can," Chris Carr said. "Obviously I want to play every game but I know that's not going to happen. Individually, I just want to help the team out. We want to win nationals, we want to win SUNYAC."
Win or lose, the Carr brothers are getting an experience that very few college hockey players get to have.
"We're pretty close back home so getting to play with him in college is an awesome experience," Tim Carr said.