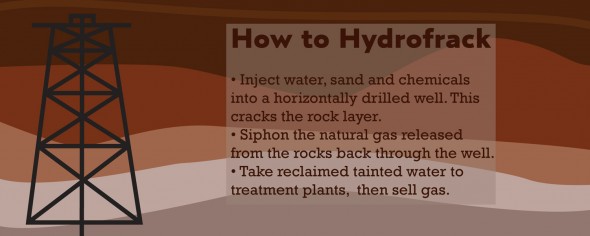 Because of the high demand for natural gas, the controversial process known as hydrofracking has created thousands of jobs. Yet environmentalists argue that long-term negative effects outweigh the short-term economical gain.
The term hydrofracking comes from a procedure officially known as slick water hydraulic fracturing. This process is used to obtain natural gases concealed below the Earth's surface. Hydraulic fracturing, or "fracking," was created by Halliburton Inc., Schlumberger Inc. and Messina Inc. It was first used in the 1940s to unlock substantial amounts of oil and clean-burning natural gas, which is extracted from dense deposits of shale. This is different from conventional natural gas drilling and makes mining in dense shale economically possible.
"The key benefit of hydrofracking is the potential energy supplies, the ability to reach oil and gas reserves in shale formation that was once considered too costly to extract. Widespread alternative energy use is a long way off, so fossil fuel energy production is still crucial," said economics professor Elizabeth Dunne Schmitt in an email.
It is said that the Middle East and Russia contain the largest amounts of natural gas and oil reserves on this planet. But in the United States natural gas is found stretching through West Virginia on up to Pennsylvania and New York. It is a mile-deep, rock-bound reservoir known as the Marcellus Shale Play. It is estimated of holding 400 trillion gallons of natural gas. Additional hydrofracking booms have taken place in Texas, Louisiana, Colorado, Pennsylvania and most recently, North Dakota.
The process of fracking requires large rigs that drill wells about a mile deep beneath the earth's surface. A mixture of explosive chemicals and significant amounts of pressurized water is shot vertically and horizontally into the earth, fracturing the rock. This releases gases such as methane which is a compound in natural gas.
With the advent of this newly accessible supply, the U.S. has increased its energy security and improved the ability to generate electricity. Along with boosting domestic energy, modern development has created a ripple effect of economic gain. For instance, fracking in the Marcellus Shale Play has enhanced local economies. The current industry is in high demand for engineering, construction, surveying, hospitality, environment permitting and equipment manufacturing. This in turn generates royalty payments to property owners and provides tax revenues to the government.
"This is a proven technique that will provide substantial volumes of natural gas at a time when we as a nation look ever more widely for means to be less dependent on foreign sources of energy. Although there are potential impacts of fracking solutions, polluting water in aquifers, I think the more significant avenue for danger is above ground," said associate professor of geology geochemistry Paul Tomascak in a written statement.
"A very thorough plan must be in place for dealing with chemical waste at any fracking site, and there must be resources in place to verify that plans are being followed," Tomascak added.
Environmentalists claim that hydrofracking is extremely detrimental to the natural habitat and water supply. The process has become highly controversial and has received much debate in recent years. For a specific area to undergo hydrofracking there is a significant amount of surface damage and forestland loss, especially when there is multiple well sites and an increased number of access roads. Environmentalists also argue that fracking causes earthquakes, above-ground explosions and drains stream water; a precious resource in many places. The most prominent catalyst for debate is whether groundwater and surface water contamination occurs.
"I think that hydrofracking in New York should be put on hold until we can effectively evaluate the dangers it presents," said Alex Lykins, co-president of Students for Global Change.
Hydrofracking involves using 6 to 8 million gallons of freshwater per fracking, varying on the depth of shale. A single well can require between one and five million gallons. This water comes from nearby natural water sources. The use of sand and other lightweight materials, known as "proppants," prop open the fissures. To be more efficient and economical, following the injections of water and sand, chemical additives are frequently used for the sake of timeliness. These additives include diesel fuel, biocides, benzene and hydrochloric acid. Small amounts of these chemicals at any level of exposure is highly toxic. A main cause of concern is that it is possible that people's drinking water could be affected.
"The process has potential for contamination from trucking waste from well sites. Issues come from the chemicals used, and how and where the waste is disposed of and how this is dealt with," said Sarah Eckel, legislative and policy director for Citizens Campaign for the Environment,.
A wave of opposition has spread across New York State. Political conflict has reached new heights in the Finger Lakes region of N.Y. Assembly Minority Leader, Brian Kolb (R-Canandaigua), submitted formal comments to the Department of Environmental Conservation (DEC), pushing for a buffer zone.
In August, the Dryden town board banned oil and gas exploration and development within its borders. In response, a Denver-based gas drilling company filed a lawsuit against the town of Dryden on Sept. 16. The town of Dryden defended its own ban on natural gas drilling before the Tompkins County Supreme Court on Friday, Nov. 4. The Common Council banned the leasing of land owned by the City of Ithaca for hydraulic fracturing on Wednesday, Nov. 2.
As Chesapeake Energy stands as the second largest producer of natural gas in the U.S. and Halliburton Inc. is a dominant leader in hydrofracking there remains the considerable question of who is responsible for ensuring public-health safety and environmental protection. Two key facts exist; water is not limited under jurisdictional boundaries and regulation for hydrofracking is disorganized and intersecting. In the 2005 Energy Policy Act, Congress exempted hydraulic fracturing from federal oversight. In other circumstances the Environmental Protection Agency (EPA) could have provided insight. The New York Department of Environmental Conservation (NYDEC) continues to track collective impacts of hydrofracking through a "generic environmental impact statement." Governor David Patterson signed a law last year pertaining to the spacing of well-heads. Critics argue that he should have evaluated the impacts on a well-by-well basis, usually required by state law.
On Thursday, November 4, the EPA released the outlines of its investigation into whether hydraulic fracturing is contaminating drinking water. The EPA will examine drilling sites in North Dakota, Texas, Louisiana, Colorado and Pennsylvania. This study was mandated by Congress last year and is the agency's first look at the impact. It plans to finish its study by 2014.
Public hearings began this week in Binghamton and Dansville of Livingston County. The DEC prepared for a wide range of responses of its proposed rules on hydraulic fracturing. This focus is among the Marcellus and Utica Shale. Hearings were held on Wednesday, Nov. 16., at the Dansville Middle School auditorium. Additional hearings were held on Thursday, Nov. 17, at the Forum Theatre in Binghamton. Planned public hearings will surface in Sullivan County and New York City later this month.
Sodus Central School District reading teacher, Charlotte Miller, attended the 6 p.m. forum in Dannsville, along with over 200 citizens. More than 140 people signed up to speak. They were grouped by ten at a time and given three minutes to speak. Around 70 people spoke ranging from age 17 on up to elderly professors.
"There's enough scientific proof that hydrofracking does cause earthquakes and they can't be ignored by the gas companies and government," Miller said.
The DEC estimates it will spend $18,000 on the four hearings, funding rental and transcription costs. Binghamton rests directly above the Marcellus Shale, so the DEC is seeking input on three documents. These articles include a set of formal regulations governing the process, an environmental review including advice to moderate the impacts of hydrofracking and a general permit with restrictions on water runoff from drilling sites.