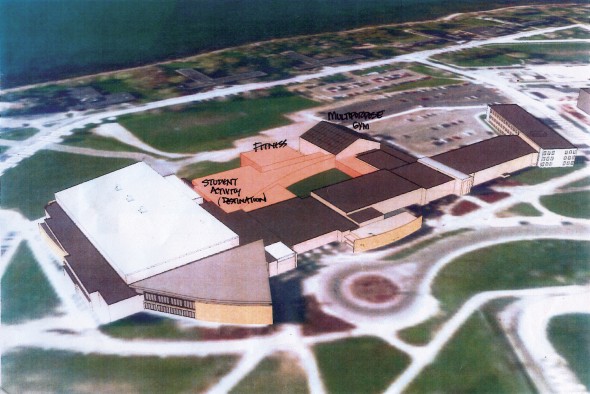 Set to become the new base for the communication department, Hewitt Union is becoming less and less a casual place for students to hangout, causing a clamor for a space they can call their own.
The Campus Concept Committee, which is responsible for identifying students' facility needs, is looking toward building an addition to Campus Center, which would allow for a diverse programming space.
From the 200 students who have been surveyed, there is a large number that want activities that happen after 9 p.m., because there is not much going on in the city for the under-21 student, said Jonathan McDonald, Student Association president.
"Students want more availability to concerts and more availability to a kind of on-campus nightclub type feel," he said.
Short-term solutions may include the O-Zone, located in Hewitt Union. However, for a more permanent and updated solution, there is a potential for an addition to the Campus Center, which would go from The Point to Swetman Gym.
There are several plans and ideas being formed but one would incorporate a smaller version of the Hewitt Ballroom, because even with a couple hundred students, it still feels empty.
"When you have a 100 or a 150 people in the Hewitt Union Ballroom, for say a concert or a show, it can feel very empty and very awkward," McDonald said.
The current campus center is facing critical obstacles in being a social hub because the design of the building forces it into two categories, either a closed "classroom" space or a traffic zone, according to a committee document.
The Activity Court on the lower level functions as a food court, but because of the lighting and furnishings, it does not work well for more intimate gatherings.
"One idea is to make a centralized fitness and recreational space for students," said Tom Simmonds, associate vice president of facilities and member of the Campus Concept Committee. "Another is to make it a section for student activity, like live shows. The last idea we have conversed about is to simply make it an informal gathering area, like a commuter lounge."
For a frame of reference, the committee identified Lake Effect Café as space that was condusive to smaller events that LifeStyles hosts on Thursday nights because students can go as a study break or they see the event going on as they pass the library.
While the outer rim of the Campus Center, the general walkway path, is very successful, it doesn't allow students to see things that are going on in the rest of the Campus Center.
"It sounds like it would be a nice addition to the Campus Center because it would build a stronger student environment," senior Tim Governale said. "It would also be easily accessible since it would be in the center of campus."
One of the critical needs which has been identified is a dedicated spaces for organization meetings, as well as a 24-hour commuter lounge. The committee is encouraging students to choose where they would like to socialize with their peers. There are meetings being held with the Committee, which include faculty as well as students.
"Pretty much if the students can get behind this idea and expect it and demand it, it will happen," McDonald said.
Although the Campus Center addition is in early, tentative stages, the move for the communication department is being set for after the science complex is complete in 2013.
"We are only in the early planning [stages] right now but a variety of ideas are being thrown around," Simmonds said. The Campus Concept Committee had constructed a study regarding space for the communications department.
"Most of the communication classes are located in Lanigan, which was built in the late '60s, early '70s," Simmonds said. "It is a little outdated and needs some rebuilding. Also, the faculty in the communication department wants to work more with the arts department. Those classes are primarily in Tyler Hall and would be a lot closer to Hewitt. There has even been some discussion on connecting Hewitt and Tyler after the [communications] department is moved."
Communications student Stevie Burley thinks that both ideas are crucial.
"It would definitely be nice to condense communication studies and the arts since the department is called 'Communication, Media and the Arts,'" Burley said. "I have been thinking that Oswego needs more space for students to socialize besides the dorms. The campus center only offers a limited amount of space. Adding to it would encourage more student involvement."
"The communication faculty wouldn't be moving too far and would receive the opportunity to work with the music and art departments within Tyler Hall," said faculty member Michael Riecke, who teaches several broadcast journalism classes. "Students should be excited because SUNY Oswego is attempting to invest in the communications department."
– Additional Reporting by Gwen Girsdansky