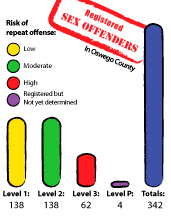 A recent email notification left many students wondering about the lag in the laws devoted to tracking those convicted of sexual crimes. The notification was sent on Nov. 4, more than two months after the start of the semester, informing students that a level-two sex offender is currently enrolled at Oswego State. The email contained a link to a page identifying the student as Mark Patane. Patane originally agreed to an interview with The Oswegonian but later reneged.
The information was dispersed in compliance with the federal Campus Sex Crimes Prevention Act, which amended federal education laws, according the U.S. Department of Education website. Under the amendment, institutions of higher education are required to inform the campus community about where they can find information about registered sex offenders. Students who use this information to injure, harass or commit a crime against anyone are subject to criminal prosecution, according to the New York State Division of Criminal Justice Services (DCJS) website.
University Police Chief Cynthia Adam said it is very rare that sex offenders apply to Oswego State. When a sex offender enrolls at a university, both the sex offender and the DCJS must inform the university police about their crime, she said. After that, information on the sex offender's enrollment must be made available to students and faculty.
Adam said that this can sometimes take a while because the DCJS deals with thousands of sex offenders. Janine Kava, the deputy director of public information for the New York State DCJS said in an email that there are 33,137 registered sex offenders on the state's Sex Offender Registry as of Nov. 14.
The university police handles the situation once the notification is received from the DCJS.
"With any new bureaucratic process, it takes a while to get everything smoothed out," Adam said. "Our school is trying to comply with the spirit of the law."
Adam said that over the past 30 years, these laws have brought a greater awareness to people about potential dangers in their community.
People are becoming more privy to information that could safeguard them down the road.
"[The laws] exist to protect us citizens," she said. "You should have a right to know who your neighbors are."
This information is even more readily available with the recent advent of the Sex Offender Locator Application on Facebook. The application is available through the New York State Public Safety Page. Kava said that the application appeals to a whole new audience of people in a way that they are familiar with. As Facebook becoming increasingly mainstream, Kava said it made sense to use this medium.
"Information and knowledge are power," Kava said. "It's just one more thing people can do to keep themselves safe."
Despite the availability of information provided by the laws and the email that was sent out, students are not at ease with the revelation. Tommy Powell, an Oswego State student, said that he was shocked when he found out that he had two classes with Patane.
"I wish I had just a little more knowledge than an email saying this guy is a sex offender," Powell said.
This information could be important to himself and the people around him, he added. When the email was initially sent out, a couple of girls in one of Powell's classes were uneasy and uncomfortable, he said. Apart from that, everyone was just trying to focus on schooling.
"Once you have a [sex offending] label for level two or three, it stays with you for life," Adam said. "It does make your movements in society very transparent."