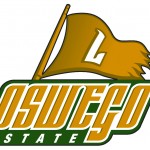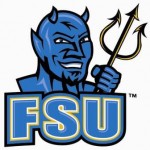 Following the Oswego State men's ice hockey team's first tie since Nov. 14, 2008 against the same Morrisville State College team that the Lakers tied last Saturday night at the Campus Center Ice Arena, Oswego State hits the road for what can easily be considered the toughest four-game stretch of the season, which starts with SUNY Fredonia on Friday night at Steele Hall in Fredonia, N.Y.
The Blue Devils come into the game at 4-2-1 overall and 2-2-1 in SUNYAC. Fredonia sits in fifth place in the SUNYAC with five points, just one point behind SUNY Plattsburgh, Buffalo State and SUNY Geneseo, who are all tied for second in the standings. One of Fredonia's two conference wins was a 5-1 victory at Morrisville on Nov. 4. The Blue Devils come into the contest with the Lakers with a 3-1-0 record at Steele Hall so far this season, with the only loss coming last weekend against Plattsburgh.
The Lakers are hoping to avenge last season's 2-1 overtime loss at the hands of the Blue Devils in the SUNYAC Semifinal to dethrone Oswego State as SUNYAC champions. The Blue Devils lost at Plattsburgh in the SUNYAC Final. Oswego State sits atop the SUNYAC standings at 3-0-1, one point in front of Buffalo State, Geneseo and archrival Plattsburgh.
Fredonia's senior forward Bryan Ross leads Division III in scoring with 16 points on five goals and 11 assists in seven games. Ross' 11 assists is tied for the division lead with Wisconsin-River Falls' Jason Yuel. Ross has netted all five goals in the past three games, including a hat trick against SUNY Potsdam on Nov. 12. In the game against the Bears, Ross finished with six points on three goals and three assists. Ross has been held in check against the Lakers, totaling just two goals and an assist in his career against Oswego State.
Oswego State counters Fredonia's leading scorer with junior forward and assistant captain Jon Whitelaw, who leads the Lakers in scoring with 12 points on four goals and eight assists. Whitelaw's 12 points is tied for fifth most in Division III with Geneseo's Zachary Vit and Wisconsin-River Falls' Adam Cardwell. Whitelaw leads an offense ranked seventh in goals per game with 5.00. Fredonia's offense ranks 14th at 4.43 goals per game. The Lakers also hold the defensive advantage, ranking eighth with 2.00 goals allowed per game. Fredonia's defense ranks 15th at 2.43 goals allowed per game.
Junior goaltender Andrew Hare is expected to start in net for the Lakers on Friday night. Hare ranks seventh in goals against average, allowing 1.92 goals per game. Sporting a 4-1-1 record in net for the Lakers, Hare currently boasts a .928 save percentage. In his only road conference game this season, Hare recorded 19 saves, shutting out SUNY Cortland, 6-0.
The Blue Devils will turn to Mark Friesen, who made 43 saves in 71:34 as a freshman against the Lakers in the SUNYAC Semifinal last year. Friesen leads Division III in minutes played with 418:31. In seven games this season, Friesen has compiled a 4-2-1 overall record and has not lost back to back games. Friesen rebounded from surrendering seven goals against the Cardinals to limit Potsdam to just one goal on 35 shots. Friesen enters the game against the Lakers with a .923 save percentage and a 2.44 goals against average.
Fredonia is 4-0-1 when outshooting opponents, but 0-2-1 when being outshot and the Lakers average 42.6 shots per game compared to Fredonia's 39.4. Both teams have had success during the third period, as the Lakers have allowed just three goals in the final period of regulation while scoring 13. The Blue Devils have scored 12 third-period goals, but has allowed seven goals in the third period, which is more than any other period.
In the battle of special teams, the Lakers hold the penalty kill advantage while the Blue Devils hold the advantage on the power play. Fredonia sports a power play that is successful over 30 percent of the time, ranking 13th. Oswego State's penalty kill unit ranks ninth, killing off penalties 88.9 percent of the time. The Lakers have allowed just five power plays this season.
The Lakers last met the Blue Devils in Fredonia on Jan. 22, as junior forward Paul Rodrigues netted the game-winning goal at 55 seconds of overtime on the power play. Oswego State jumped out to a 4-0 lead 7:07 into the second period on goals by Stephan Mallaro, Ian Boots, Tyler Leimbrock and Owen Kelly. Fredonia rallied to tie the game at four on Mat Hehr's goal with five seconds remaining in the third period with the extra attacker. Oswego State senior goaltender Paul Beckwith finished with 28 saves while Friesen was chased in the second period after all four goals on 17 shots. Jeff Holloway replaced Friesen and finished with 15 saves.
The game against Fredonia marks an arduous four-game road trip that includes Buffalo State, Potsdam and Plattsburgh. Oswego State and Fredonia will drop the puck at Steele Hall at 7 p.m. on Friday, Nov. 18. Fans can listen to the game by tuning into WNYO 88.9FM.
Audio of Michael Keeley and Scott Glickman in Oswego State's 5-4 overtime victory against Fredonia at Steele Hall on Jan. 22, 2011.