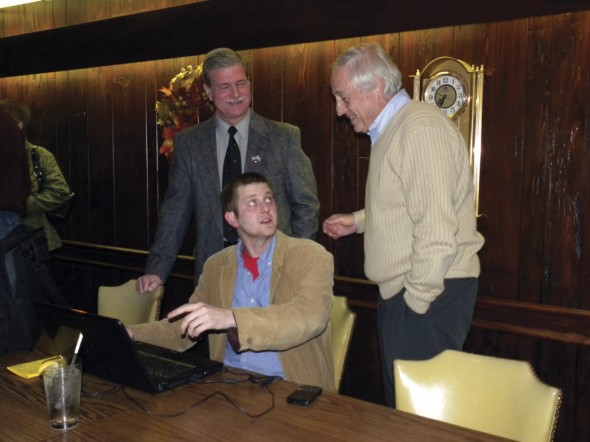 Winning each of Oswego's seven wards and 66 percent of all votes, Oswego State alumnus Tom Gillen (D) was elected mayor Tuesday.
"I'm going to be smiling in my sleep tonight," Sue Matthews told Tom Gillen during his rally with supporters at Vona's. "Thank you for running."
Although Matthews lives just outside the city limits, she said she is deeply affected by how the city is run.
"Even though I live outside of the city, I still pay school taxes, I shop in their stores," she said.
"I thought this was the most important mayoral election we've had in a long time," Matthews said.
More than 3,000 residents voted in the election on Tuesday. Without the inclusion of an estimated 300 absentee ballots, Gillen received 2,426 votes, almost double opponent Dave White's total of 1,234.
"I thought it was a decisive win," Gillen said. "It's nice to win, when you win an election it's nice to have a lot of support behind it, to kinda squeak in is 'eh.' It's kinda tough. But this time the people spoke loud and clear."
Part of the success, Gillen said, was that his message resonated across party lines.
"There are certain wards in the town that traditionally don't vote democratic," Gillen said. "I think what it's nice about it, is that I didn't really run on a democratic platform, I ran on a city platform. There were a lot of people crossed over, Democrats, Republicans, conservatives, liberals, working-family people. "
Gillen will succeed current mayor Randy Bateman Jan .1.
"We kept [the campaign] based in the reality facing the residents of this city," campaign manager Seth Wallace said. "Now we're ready to start the real work, which is working for the taxpayers and the working families of the city of Oswego."
After Gillen becomes mayor, Bateman is looking forward to the chance to travel.
"I'll have more time to visit my children who are out of town. My daughter in Atlanta and a son in Cape Cod area," Bateman said. "Even though I retired from my other full-time job last month, my other one, when you're mayor you still have to keep office hours, so it's pretty much a full-time job."
Bateman said that he is excited about the future of Oswego with Gillen as mayor.
"[I'm] excited that the city will keep moving forward under his leadership. He has a wealth of experience in the business community," he said.
Gillen, a 1972 Oswego State alumnus, wants to bridge the gap between city and community by opening communication and bringing more local businesses that appeal to students.
"I think we've had some good communication times and some not so good over the years," Gillen said. "But I think we need to improve at this point in time. How you do that, is getting more people to discuss the common issues."
Tensious topics include the "drunk buses" and the parties in town. The drunk buses have been criticized for dropping students off in residential districts in the middle of the night often causing noise disturbances.
"It may be just a college experience for them as they go through life, but for us this is our life," Gillen said. "But we also appreciate that they're young and they're going to do all kinds of things. It's part of the excitement of the city."
Gillen said that Oswego is a college community and being in college is stressful and so students need to find ways to enjoy themselves.
"No one wants to punish anybody for being young and making mistakes," Gillen said. "But I do think that if we develop some activities in town that weren't required to be 21 or older, we would be a lot better off."
He also said that there weren't really a lot of small, local businesses with their own personality adjacent to campus, like coffee or tea shops. He said he has looked at other college towns that have a lot of small businesses near campus and that it adds to the personality of the communities.
"I would like to encourage more of that, more vibrant downtown, so the young people want to come down there," he said.
Gillen has plans to revitalize the community through knowledge-based jobs that could retain students after graduation. He also hopes to improve housing for young professionals.
"It's been like he's saying all along, we bring people into this city and educate them," Wallace said. "They get a great education, they learn all these skills, and for the most part they leave. We want to keep the talent that is grown at the university."
Among Gillen's plans for job growth is perhaps using Lake Ontario as a natural cooling device for technology, which could be an alternative to ordinarily expensive air cooling.
"What we have out here is the excess of a lake, which has a temperature of roughly 40 degrees," Gillen said. "There is no reason why we couldn't just pump [water] into the data centers, build data centers around the lake, use the lake water to cool it down and save these people a ton of money and then create these really good jobs. Once you built the data centers here, then people are going to say 'how about call centers, how about other knowledge-based industries.'"
Housing is an issue that goes hand in hand with jobs. Currently the city has a lot of student housing, senior living homes and older homes. Gillen has seen an issue with young professionals finding homes.
"There's not really a market for young professionals to come in here," he said. "We need to have that. Gosh, if you want young professionals to move here, you got to offer them a place to live, as well as a job."