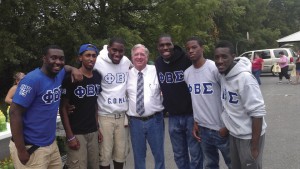 On the first Saturday of every month, the fraternity Phi Beta Sigma volunteers at a local church to give away a truckload of food.
According to Phi Beta Sigma [PBS] President Castelli Laflotte, the fraternity truly lives by its motto: "Culture for service, service for humanity."
In that time, the group managed to distribute food to a line of about 150 people. On Saturday, the six brothers brought other Oswego State students with them to Lighthouse Baptist Church in Mexico, N.Y. to volunteer.
"We have fed over 50,000 people in the past eight years that we've been doing this," Rev. Ronald Russell said. "Every time we do this, more and more people line up. We get people all the way from Chittenango."
Akilah Portee is an Oswego State student who heard about the church's give- away at an African, Latino, Asian and Native American (ALANA) Student Leadership Conference.
"Some families were coming through the line two or three times because they have nothing," Portee said.
John Marrero was another one of the students who volunteered on Saturday.
"I was actually inspired and touched," Marrero said. "It did my heart good to know I was helping out the community and maybe even changing someone's life."
Russell and Laflotte each invite Oswego State students to volunteer at the church again Saturday, Dec. 3.
"It will be crazy in December," Russell said. "We're going to be handing out toys for Christmas, too."
Volunteering is one of the many things the brothers do to serve their community. During this semester, the fraternity has been fundraising for the American Cancer Society. Next semester, PBS plans to walk for the March of Dimes fundraiser. About 50 students from Oswego State went with them last year. They encourage non-fraternity students to join them.