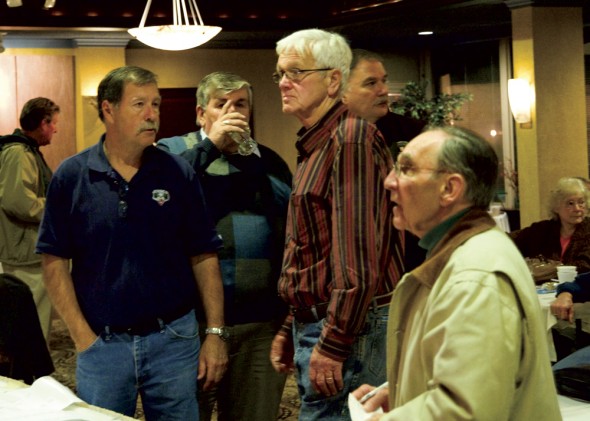 Mayoral candidate Dave White left Steamer's banquet room at 10:30 p.m. after conceding the election to Tom Gillen, on Tuesday night.
Despite initial problems with ballot counts, it became clear at one point through the night Gillen would win the election. The unofficial count at roughly 9:30 p.m. left White close to 700 ballots behind; the current count puts him behind by 1,192 ballots. White was out-voted in every ward. The official total will be released next week after canvassing the voting booths and counting absentee ballots.
White left without making any statements to the crowd or the press. He said he did not want to comment.
There were 30 to 50 people in attendance, differing throughout the night. Most people were dressed casually, as was White. He wore a collared shirt, windbreaker jacket, blue jeans and sneakers.
Harrison Wilde, a supporter and photographer for White, awaited the results.
"There will be a lot of happy people and a lot of broken-hearted people," Wilde said. "White has been knocking on doors since summer… he would be devastated."
Whatever the outcome, the candidates worked hard, said Michael Bakus, Republican County Chairman.
"In campaigns you can't look backward, you have to look forward," Bakus said.
The main issue of the election, according to Bakus, was rebuilding the community – both structurally and economically. Even if some candidates did not win, they still helped bring those issues to the forefront. Proud of his candidates, Bakus said he hopes successors will hold true to their word and rebuild the city.
Mike Todd won the position of Alderman for the Third Ward.
He said he had his volunteers to thank for the win. From young to old, he credits his variety of volunteers, especially Oswego State's College Republicans.
"Those guys worked their butt off for me. Absolutely great group of kids," Todd said.
Nick Staiano, president of College Republicans said he thought all the candidates gave it their best. They ran hard campaigns, put their feet to the pavement and spoke to every constituent they could speak to.
John Canale, a retired alderman, aided in the campaign. Canale said he thought White should have won. He was out door-to-door since before summer. There was no pivotal aspect to the loss of the mayoral race, Canale said.