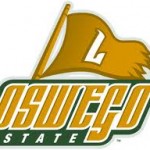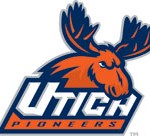 The second-ranked Oswego State men's ice hockey team spoiled a chance to become the nation's top-ranked team come Monday afternoon, falling to 13th-ranked Utica College, 3-2, on Saturday night at the Utica Memorial Auditorium.
Junior defenseman Taylor Farris scored twice for the Lakers, but Oswego State was unable to come back from a 3-1 deficit in the third period. Utica's Mike Slowikowski and Trever Hertz tallied a goal and an assist each for the Pioneers, recording their first victory over the Lakers since Jan. 23, 2007.
Utica's Evan Chlanda gave the Pioneers the lead at 11:28 of the first period on the power play. Following a holding the stick penalty by senior forward and team captain Andrew Mather, Utica's Rob Morton found Chlanda, who beat Oswego State junior goaltender Andrew Hare for the goal. Steve Charest was awarded with the secondary assist on the play.
The Lakers (3-1-0 overall, 1-0-0 SUNYAC) tied the game at 17:00 of the first period on Taylor's first goal of the game. Junior forward and assistant captain Jon Whitelaw was credited with the assist.
The Pioneers (2-0-0 overall, 0-0-0 ECAC West) took the lead for good on Slowikowski's goal at 4:41 of the second period. Adam Graff and Hertz were credited with the assists on the play. Utica pushed the lead to two with just 58 seconds remaining in the second period on Hertz's goal. Morton and Slowikowski assisted on the play.
Farris scored his second goal of the game at 5:33 of the third period to cut the deficit to one. Junior defenseman Tim Carr assisted on the play.
Trailing by a goal with under 15 minutes to play, the Lakers were unable to score the equalizing goal. The Lakers had one power play chance at 12:26, but Utica goaltender Nick Therrien made three saves to preserve the victory for the Pioneers.  Therrien finished with 22 saves on 24 shots faced.
Hare finished with 28 saves on 31 shots faced in a losing effort for the Lakers.
Utica finished 1-for-7 on the power play, while the Lakers finished 0-for-3 with the man advantage.
Coming into the game, the Lakers had a chance to move to the top of the rankings after St. Norbert lost to Wisconsin-Stevens Point, 5-1, on Friday night. But with the loss to Utica on Saturday, the Lakers will more than likely drop a few spots when the rankings come out on Monday.
The Lakers return to conference play on Friday, Nov. 4, when they host SUNY Geneseo at the Campus Center Ice Arena.