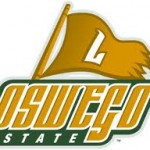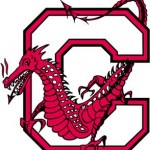 Fresh off a two-game sweep of Elmira College last weekend, the Oswego State men's ice hockey team sets its sights on its ninth SUNYAC championship in program history when it visits SUNY Cortland on Friday, Oct. 28.
The game serves as the conference opener for both teams and is also Cortland's season opener. The Red Dragons finished last season 5-10-1 in conference play, finishing seventh in the nine-team SUNYAC and failed to qualify for the postseason. The Lakers captured the regular season conference title, going 15-1-0, but lost in the SUNYAC Quarterfinal to SUNY Fredonia, 2-1, in overtime.
Oswego State swept the season series from Cortland last season, winning 6-1 in Oswego before defeating the Red Dragons at Cortland in overtime, coming back from a two goal deficit with 3:26 remaining in the third period to force overtime. Junior forward Paul Rodrigues scored the game-winning goal with just 54 seconds remaining in the game to complete the sweep.
Cortland head coach Joe Baldarotta returns for his fifth season. Baldarotta has yet to defeat Oswego State head coach Ed Gosek, going 0-9-1 in 10 meetings between the two teams. The tie came back on Nov. 17, 2006.
The Lakers have had the upper hand on the Red Dragons, owning a 62-8-1 series record. Oswego State has not dropped a game against Cortland since Jan. 20, 2006. In that game the Red Dragons came back from a 3-1 deficit, scoring four consecutive goals en route to a 5-4 victory.
Cortland returns last year's leading scorer, junior forward Joey Christiano, who totaled 18 points on 10 goals and eight assists. Christiano registered a goal and an assist against the Lakers last season.
It is unknown whether senior goaltender Paul Beckwith will start on Friday after leaving last Friday's game at Elmira College with a knee injury. Beckwith did not dress for last Saturday's home opener. If Beckwith cannot play, junior goaltender Andrew Hare will get the call for the Lakers. Hare, a transfer from Niagara University last semester, recorded a .944 save percentage and a 1.80 goals against average in two wins this season. Hare's opening weekend performance earned him SUNYAC Goalie of the Week honors.
Last season, the Red Dragons used all three goaltenders during the season. Brittan Kuhlman returns for his senior season after appearing in 12 games, playing 41.5 percent of the season in net. Kuhlman finished last season with a .894 save percentage and a 4.48 goals against average. Kuhlman recorded one shutout in 11 starts. The Red Dragons lost Dan Jewell to graduation, who led the team in save percentage (.904) and goals against average (3.93). Mike Reilly, a senior this season, saw limited time in net last season, playing in seven games, finishing with an 0-5-0 record. To replace Jewell, the Red Dragons recruited Jeff Molner, a freshman from Kinnelon, N.J. Kuhlman will more than likely start in net against the Lakers.
The Lakers have received goal contributions from players who don't typically contribute on the offensive side of the ice. Junior defenseman Jesse McConney scored his first two collegiate goals Saturday night, junior forward Chris Ayotte, junior defensemen Tim Carr and Zack Josepher and sophomore forwards Kyle Badham and David Titanic have each tallied goals for the Lakers.
While the Red Dragons may not have the talent that Elmira College has, Oswego State must make sure not to overlook Cortland on Friday night. Gosek knows that no conference game is a cake walk and any team can beat them on any given night, regardless of past history.