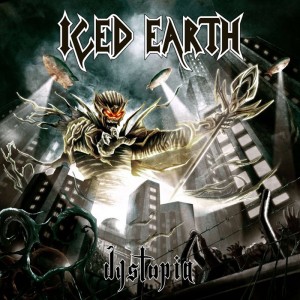 American metal legend Iced Earth has put out its highly anticipated album, "Dystopia." The band is heavier than it has ever been, thanks to the new addition of singer Stu Block.
"Dystopia" kicks off with speed and intensity from the get-go and never stops. Jon Schaffer's mammoth riffs and furious chugging fuel through like a bat out of hell. The title track is one of the best songs Iced Earth has ever done. It has a great melody and a fantastic rhythm section by Freddie Vidales, Troy Steele and Brent Smedley keep it going over the great vocals Block bangs out.
Stand out numbers also include "Boiling Point," "Days of Rage," "Anthem," and "Anguish of Youth." "Days of Rage" and "Boiling Point" are the best overall songs on the album, showcasing the fury and pure talent the band has to offer.
"Iron Will" is one of the slower numbers, but it has some great solos and would make for some great montage music in any 80's film; a good number to pump some iron to at the gym.
The best thing about this album is Block. Although this is his first effort with the band, Block is easily the best singer they could have gotten to fill the shoes of not only Matt Barlow, but Tim "Ripper" Owens as well. Block's vocal range is so powerful he can execute both singers' diverse styles. On "Days of Rage" and "Boiling Point," Block does a great job of the "Ripper" style high-notes while pulling off a near identical Barlow mid-range. "End of Innocence," "Soylent Green" and "V" show Block showing more of himself on the album, bringing his talent from his former band "Into Eternity" into play.
The closer "End of Innocence" is a great way to round out the album. It's a bit slower, a bit longer, and a bit different. The intro is rather jazzy with Spanish influences and then really grabs the listener's attention. One of the best songs the band has ever done.
Iced Earth has put out another winner with "Dystopia." This is arguably one of the best albums of Iced Earth's career, let alone this year. Block and Schaffer have fantastic chemistry that will hopefully continue on for the remainder of Iced Earth's career.