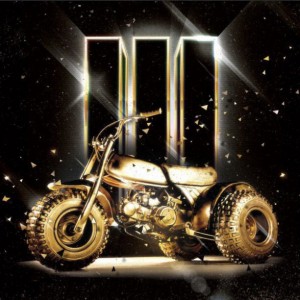 The crunk-rock quintet Family Force 5 is back with their third full-length album "III." It has been three years since the Atlanta-based group has put out an album (excluding their 2009 holiday album "The Christmas Pageant"), and they come back strong with "III."
The opening track "Can You Feel It" brings you right back into FF5's musical world, with a strong beat and powerful vocals. Listeners can picture front man Solomon Old onstage with his famous silver hulk hands jamming with the beat. But the second song shows that FF5 are not the young care-free kids of past albums. "Paycheck" is a relatable song that talks about the current U.S. economic crisis. Don't worry though, the band has not grown up completely. The third song, "Wobble," is classic FF5 music, meant to sound like a good time while for the listener.
"You Got It" is something a little different for the group; the beat to the song is a cross between 70's funk and reggae. "You Got It" isn't the only new sounding song on the album; "Mamacita" still has a familiar FF5 beat, but features a Spanish guitar, and has a Latin grove to it. "Tanktop" is a song that could be heard humming in the club. Track seven is intended to be a love ballad but "Not Alone" sounds like it would be a Backstreet Boys or any 90's boy bands' attempt at a comeback song. "Dang Girl" starts out with a classic FF5 crunk hip-hop beat, but as the song progresses where normally in their songs a powerful guitar riff would come in, they change things up with a brief dub-step like beat. The band gets back to their rock roots with "Love Gone Wrong" with a heavy guitar sections and a catchy chorus. The final song "Get On Outta Here" picks up where the album started off with a powerful, heavy beat and the same classic voice effects used on "Can You Feel It."
Family Force 5 referees to themselves as "crunk rockers" but like their past albums "Business Up Front/ Party In the Back," and "Dance or Die," "III" just reinforces the fact that its hard to give FF5 a genre, because they can produce so many different sounds that range from metal to southern rock, R&B, funk or techno. Now they even have songs that feature Latin roots and reggae. That's not to mention the fact that some consider them a Christian rock band due to the bands indie Christian record label Tooth and Nail Records.
Family Force 5's music is all about having a good time with life, and putting the listener into a good mood. Their music is so different that there is surely something for everyone to like, and the album "III" is a perfect example of this.