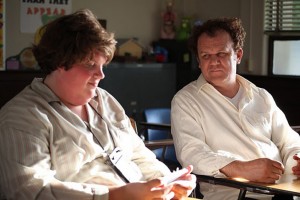 New on DVD for the week of Oct. 11, 2011 is the film "Terri" starring John C. Reilly (Cedar Rapids) and Jacob Wysocki. The film is a refreshing take on the "misfit" or the "outsider" during those hard adolescent years. This independent comedy-drama follows the relationship of Terri (Wysocki), the oversized outsider and the talkative, noisy, but kind-hearted vice principal Mr. Fitzgerald (Reilly).
Terri is a depressed and apathetic fifteen-year-old. The film begins with Terri's decision to wear pajamas to school and to stop caring about his high school life overall. His only source of parental support is Uncle James (Creed Bratton), a forgetful and bizarre fellow who reminisces about the war and can fall asleep just about anywhere. While Terri's attitude alienates him from friends and teachers alike, he catches the attention of Fitzgerald, who takes the boy under his wing. Fitzgerald starts Monday morning counseling for misfits, and Terri quickly realizes he has been placed in a group with not just misfits but downright freaks, including Chad, who somehow becomes friends them, as geeks and misfits usually do.
While one could say Terri has a very conventional plot, the film is handled very delicately. Sure, there's a love interest, Heather (Olivia Crocicchia) but it's not as straightforward as things seem. As a shy girl, Heather is humiliated when her boyfriend pressures her into some dirty sexual activities in home economics. From there, she becomes a misfit like Terri and the three form an unlikely trio, though Fitzgerald keeps an eye on Terri in a not-so-subtle way.
The film is sprinkled with touching moments that add a breath of originality to the misfit story; including the first time Chad comes to Terri's house and simply asks where Terri's mom is. Terri, with no tears or sorrows, simply explains his mother is gone and offers little else for the audience to sink their teeth into. It is perhaps that apathetic nature that makes Terri such a unique protagonist. For the audience, Terri is the protagonist but there are no villains to conquer other than the cruel and harsh realities of life: illness, death, bullying, life, fights between husbands and wives and just finding the will to get out of bed each morning. "Terri" sheds light on the birth of a new indie star in Wysocki, and the future looks bright.
The film was released January 2011 at the Sundance Film Festival to rave reviews. Along with Sundance, the film has screened at Florida, San Francisco and Boston Film Festivals.